Darwin Newspapers
Local Darwin newspapers include the NT News, Darwin Sun, Palmerston Sun and Sunday Territorian which are all owned by News LTD. The Territory Regional Weekly is the only locally owned newspaper.

Search these Northern Territory Newspapers
NT News - Sunday Territorian - Territory Regional Weekly - Darwin Sun
Palmerston Sun - Katherine Times - Alice Springs News
Custom Search
(Results open new window)
The Territory Regional Weekly publishes weekly, reporting on local stories and lifestyle issues. It is very popular in the large and growing semi-rural area in the outer Darwin region and has an increasing readership in the city and suburbs.
Shop1/15 Vereker St
Humpty Doo NT 0836
Phone: (08) 8992 2028
The
NT Rural Weekly
is part of the News Corp rural network which began publishing in the NT in April 2015.
The NT News is Darwin's tabloid daily paper and comes out every day except Sunday, when it becomes the Sunday Territorian.

Saturday and Wednesday editions carry the bulk of classified advertisements.

Printers Place
McMinn St. Darwin
Phone 8944 9900
www.ntnews.com.au

Two free suburban papers, the Darwin Sun and
the Palmerston Sun are also published weekly.
phone 8931 3122
The Trading Post is owned by Sensis (Yellow Pages) and was published once a week in all states. It is no longer printed.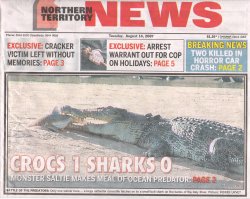 Crocodiles are often in the NT News