Darwin Open Gardens
Enjoy a visit to the Darwin Open Gardens Scheme participating gardens to see a variety of landscapes, tropical plants, exotic palm trees and Australian native flora in these inspiring gardens.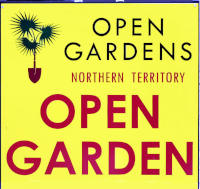 in 2019  a group of enthusiastic, local volunteers has brought the program back to Darwin and surrounding communities, after the National Open Gardens program ceased operating in 2015
Look for the signs when you are driving to one of the gardens on the dates listed below.
Open Gardens 2022 Season.
The first Open Garden for 2022 opens on Saturday 2nd & 3rd April  9am to 3pm

15 Stuckey CRT, Howard Springs
Over 30 years, this garden has transformed from a rural bush block into range of contoured established gardens.
While some of the original cycad palms and tall natives have been retained, it now boasts an assortment of bromeliads, orchids, cactus, frangipani, desert roses and fruit trees. Wander through pathways that lead to somewhere different each turn - with eye catching rockeries, fish ponds and creeping arches dotted with statues. After years of battling spear grass, weeds, white ants, cyclones and bush kids it is still a work in progress.This host gardener's charity to start the 2022 season is Environment Centre NT. In addition, there will be a huge range of NT native plants for sale from Territory Native Plants and the Top End Native Plant Society. COVID-19 rules apply as per NTG Health directions.Admission is paid on entry at the garden - EFTPOS (preferred) Adults $7, under 18's free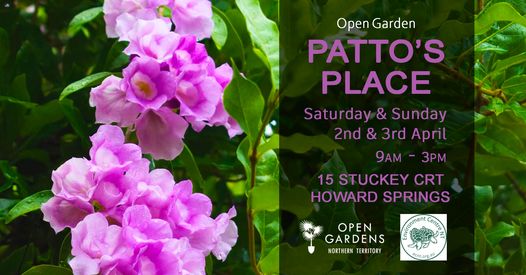 Past Open Gardens 2021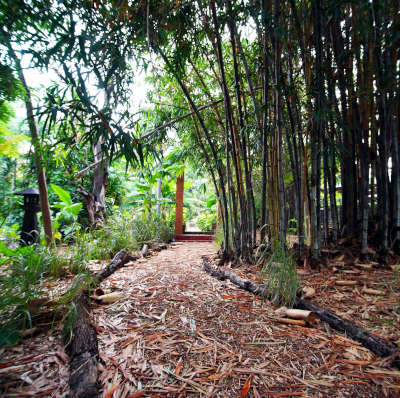 The Leanyer Patch May 1-2 2021
The Leanyer Patch
---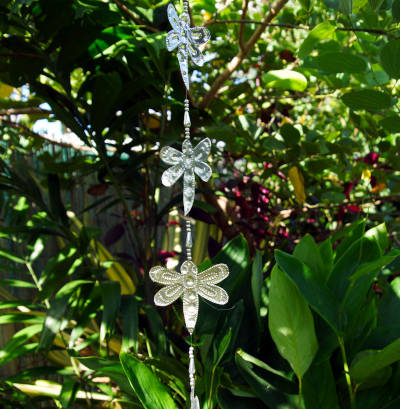 Ben & Katies Paradise May 8-9 2021
Ben & Katies Paradise
---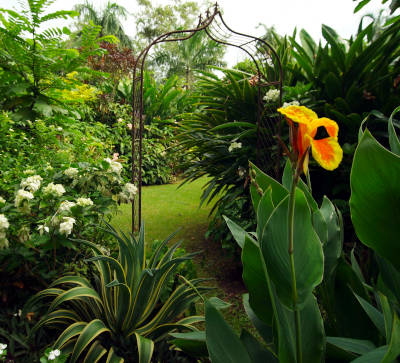 Bali in the Backyard May 15-16 2021
Bali in the Backyard
---
All Open Gardens are open from 10am to 4pm unless noted otherwise.
A  $7 Admission is split between the garden owner and local community and charity groups 
Children under 18 are admitted free to all our Open Gardens.
The program is supported by;
Open Gardens NT is a not for profit organisation founded in 2018.
It owes it's success to the hard work and dedication of the many volunteers who made up the nationally run Open Gardens Scheme that ran in the Territory from 1987 to 2014 and the volunteers who now have launched the NT Open Gardens Scheme.
Previous National Open Gardens Scheme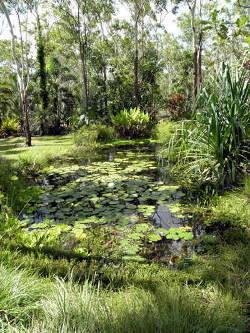 From a previous Open Gardens program.
Australia's Open Garden Scheme was a not for profit organisation founded in 1987.
Its mission was to promote the knowledge and pleasure of gardens and gardening across Australia by opening inspiring gardens to the public. Each year the Scheme opened around 600 private gardens across every geographical region. The first of the Darwin open gardens started in 2000, and in 2014 gardens opened in Darwin, Palmerston and the rural area.
The Open Garden Scheme is totally self-funding, with entry fees divided as follows:
35% of the gate fee is returned to the garden owner or to a charity of their choice; 
65% covers the Scheme's operating costs, with surplus funds returned to the community via our Community Grants program.

To date, (2013) more than $850,000 has been given to community projects across Australia.
Charities and local causes have benefited to the tune of nearly $4 million thanks to the generosity of garden owners donating their gate share and proceeds from refreshment sales and stalls.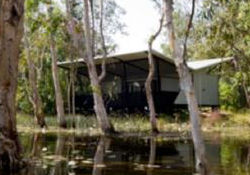 Jasmine Jan Studio garden, a previous Open Garden.