Since March 2020 life as we know it has changed forever due to the coronavirus COVID-19

Local businesses are adjusting to the 'New Normal', please check with the advertised contact for any updates or changes to an advertised service.
Darwin Originals- pictures of an NT life by Alison Dowell
by Alison Dowell
(Darwin)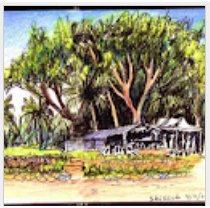 When my children were little I drew and painted them a lot- friends suggested I should get the drawings copied; then I had a market stall here I had a bit of luck selling some of them. This grew into a regular event, every Sunday at the Nightcliff markets, where I sold my cards outside Jane Aagaards office- for 4 years!
All the designs are just pics from my life.
I don't do the markets any more, but I do still sell my cards all over town- the Museum, the Groove Cafe in Nightcliff, Greenies WHolefoods at Rapid Creek, Parap Post Office, DI Walsh's soap, hat and jewellery stall at Parap and MIndell Beach Markets, The Good Luck Shop In Nightcliff, Parliament House shop,and afew others (see website)
Have a look at them on 'alisondowell.com' or have a look at my more recent work on my blog, 'darwinoriginals.blogspot.com'
Thanks.