Darwin Wesleyan Church
This historic Darwin Wesleyan Church was also the first cyclone proof prefabricated building and has survived Cyclone Tracy, WW11 bombing of Darwin, termites and worse.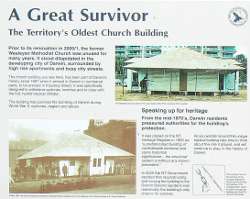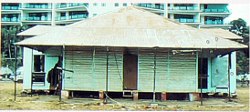 The dilapitated church building in Knuckey Street, 2000. Photo courtesy of Bob Lardell.
The Territories Oldest Church Building
Prior to it's renovation in 2000/1, the former Wesleyan Methodist Church was unused for many years. It stood dilapidated in the developing city of Darwin, surrounded by high rise apartments and busy city streets.
The church building you see here has been part of Darwin's history since 1897 when it arrived in Darwin in numbered parts, to be erected in Knuckey Street. It was specifically designed to withstand cyclones, termites and to cope with the hot, humid tropical climate.
The building has survived the bombing of Darwin during World War 11, cyclones, neglect and abuse.
In May 1897, the church building was erected in Wakefield Street, Adelaide, prior to it's shipment north.
Speaking up for Heritage
From the mid-1970's, Darwin residents pressured authorities for the building's protection.
It was placed on the NT Heritage Register in 1995 as: "a prefabricated building of considerable technical and some historical significance....the structural system is without any known precedent."

In 2000 the NT Government decided that reconstructing and moving the building to the Darwin Botanic gardens was realistically the building's only chance for survival.

Cyclone Ties
The cyclone 'ties' on the corners of the building helped the church survive at least 18 cyclones.
The reconstruction works in 2001 brought the building up to the NT's cyclone standards.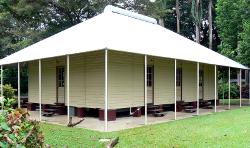 Historic Darwin Church restored and relocated to Darwin Botanic Gardens
Read more of Darwin's history here
---
Return from Historic Darwin Wesleyan Church to Enjoy Darwin Home.
---