Dundee Beach Sholly Shack
by Gini Murphy
(Australia)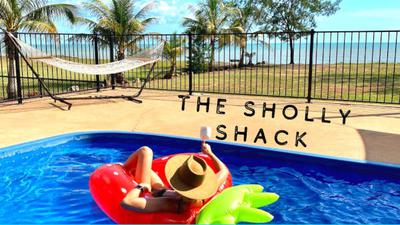 The Sholly Shack
The Sholly Shack is an oceanfront, laid back 2 bedroom house with all the modern facilities, includes free Wi-Fi, swimming pool, indoor/outdoor cooking areas, huge family room, coffee machine, ice maker and more to make your time away an absolute pleasure.

It has an enormous undercover verandah with ceiling fans and your outdoor cooking facilities, which overlooks a 6 metre pool where you can relax and enjoy the beautiful seaview sunsets. The Sholly Shack is Dundee Beach accommodation at its best. We have the best views of Fog Bay and absolute water frontage. Located at 318 Mermaid Circuit, Dundee Beach.
It is an easy walk down to beaches and a short 5 minute drive to the boat-ramp.
The real beauty of Mermaid Circuit is the peace and quiet, being a little way from the 'pub' ensures that you will not be bothered by anyone else.
In 'The Dry' its glorious blue skies and balmy nights...in 'The Wet' it is magnificent, it is actually our favourite time of the year! But no matter what time you visit you will be able to have a 'coldie' and float around in the pool knowing that this is definitely one of the best spots in the country.
WE ARE PET FRIENDLY TOO!

Sholly Shack Accommodation Facilities
The SHOLLYSHACK has 2 air-conditioned bedrooms, one with a king-twin ensemble and the other with a double/single bunk set (+ a floor mattress if required). Prices range from $390pn to $400pn with a 2 night minimum and weekly will set you back $2520 ($360 p/n).
Optional extra is the SHOLLY SHED Additional fee. $150pn
2 x air conditioned bedrooms queen bed in each
1 x air conditioned lounge area with fridge, tv and 3 single beds
Separate shower and toilet
2 night minimum + $300 refundable bond.
6m pool overlooks the Fog bay (best seaviews at Dundee)
Pet friendly
Huge verandah with 4 ceiling fans.
Three fridge/freezers
One large chest freezer
2 BBQ's
1 Pizza Oven
Crab cooking facilities
Soccer table
3 Lt Ice maker
Tide Clock
Rumpus Room
Air-conditioned lounge room with 55" TV (vast satellite), soccer
table game, sofas, bean bags, laundry & toilet and a bathroom with
shower, basin and toilet.
Check out our website at
shollyshack.com.au
or contact
Gini by phone 0425764411
email:
dundee@shollyshack.com.au
www.shollyshack.com.au
facebook.com/dundeebeachshollyshack
www.twitter.com/dundeeshack
Fishing
The Territory is truly a fishing mecca.
If you have a "tinnie" there is virtually a lifetime of different beaches, rivers, creeks, reefs and islands to explore around the Dundee area.
If you have a "big tinnie" you will never be able to explore every place on offer. From the famous Perron Islands to the mouth of the Bynoe Harbour and everything in between you will need a lifetime of visits to fish 'em all!
Throwing a line in from the front reserve area is also possible at high tide.
We can recommend people for all your fishing charter, boat hire needs, activities such as heli tours from the Shack and more.....