Emerald Springs
by Belinda
(Emerald Springs)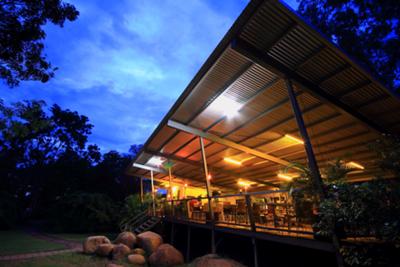 Emerald Springs Deck
Emerald Springs Caravan Park is a modern oasis on the Stuart Highway which provides much more than simply a place to park your van.

The restaurant
The Bent Bull Bar and Grill is the social hub of Emerald Springs. A full pub-style menu is served all day from 6am until 10pm – breakfast, lunch and dinner – with the reef 'n' beef, mixed grill and Daly River barra clear local favourites. There are daily specials too, as well as luscious desserts like lemon meringue pie and homemade ice cream from 'Nana Pat's Fat Factory' – all made the old-fashioned way with sugar and spice and all things nice!

The bar
They love a good party at Emerald Springs, so the bar is always full with everything from shooters to top-shelf champagne. The boutique wine list is handpicked by Darwin wine connoisseur Tim Story, with labels like Serafino and Goose Island. They happily take requests too, so if you'd fancy a glass of Bombay Gin or your favourite wine for your stay, just ask and they'll get it for you. Bar opens from 10am until midnight.

The serenity
You'll find some of Emerald Springs' best features when you step outside: the lily-covered spring-fed lake, a pretty horseshoe garden and a grassy beer garden framed by colourful heliconias and tropical foliage. Best of all is the enormous hardwood deck that juts out over the lawn. It's the perfect place for any function and a really beautiful spot to just relax and enjoy a great meal and a cold drink. A natural rock pool and waterfall inspired by Litchfield National Park's iconic Buley Rockhole will be added this year.

And the rest
Emerald Springs also has conference facilities, a convenience store (with 12 flavours of home-made ice cream), wireless Internet, special needs facilities and parking for coaches and roadtrains. Fuel coming in the dry.


ACCOMMODATION
Emerald Springs can accommodate guests in comfort with 40 ensuited rooms and 30 powered/unpowered caravan and camp sites.
Queen room (2)
Double room (10)
Twin room (4)
Single room (24)
All rooms are $65 per night. This is a flat rate that doesn't fluctuate with the season. Check in is 2pm and check out is 11am. Fresh linen and towels supplied.
Caravans and motorhomes
Emerald Springs has 20 grassed caravan and camping sites with optional power. The super straight driveway and custom turning circle means they can cater for guests with larger motorhomes and touring buses – just drive on in! So, bring your tent, roll out your swag or drive your van or bus straight in. They're also dog friendly.
12 grassed caravan sites: with power $25/night, without power $16.50/night
8 grassed campsites: with power $15/night, without power $10/night
Location
Emerald Springs is on the Stuart Highway 190km south of Darwin and 123km north of Katherine. The closest service centre is the historic township of Pine Creek, 32km to the south.
It also sits on the Nature's Way tourist drive that links Darwin with Kakadu National Park, as well as the Northern Goldfields Loop, a heritage trail from Pine Creek to Adelaide River via the fascinating Grove Hill Heritage Hotel.
Emerald Springs is:
• 190 km south of Darwin
• 22km south of Hayes Creek
• 32km north of Pine Creek
• 123km north of Katherine
Contact us
P: 08 8976 1169
F: 08 8976 1298
E:
emerald.springs@bigpond.com
W:
www.emeraldsprings.com.au
Like us on Facebook Emerald-Springs