Since March 2020 life as we know it has changed forever due to the coronavirus COVID-19

Local businesses are adjusting to the 'New Normal', please check with the advertised contact for any updates or changes to an advertised service.
Exercise Pitch Black 2016 Open Day
by Royal Australian Air Force
(RAAF Base Darwin, NT)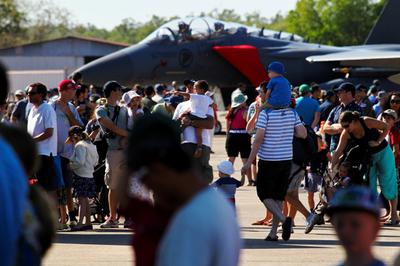 Pitch Black Open Day
Pitch Black Open Day is a free community event held as part of Exercise Pitch Black 2016 at RAAF Base Darwin on Saturday 13 August, 9am-4pm.

The exercise will also feature an aerial handling display over Mindil Beach on Thursday 11 August. These events are free and are a great opportunity for the community to enjoy the many capabilities on display during the exercise.

Flypast and Handling Display
• Date: Thursday 11 August
• Time: 5pm – 6pm
• Location: Mindil Beach, Darwin
• A flypast featuring Australian and international military aircraft, including a RAAF F/A-18 Hornet handling display (subject to operational availability).

Pitch Black Open Day
• Date: Saturday 13 August
• Time: 9am – 4pm
• Location: RAAF Base Darwin (off Stuart Hwy, Gate S)
• Free community event
• The Pitch Black Open Day is a free community event and is a perfect opportunity to get up close and personal with the local and international military aircraft and vehicles. It is also a rare opportunity to meet the crews and personnel who fly and operate these machines.

Exercise Pitch Black 2016 is a three week multi-national large force employment exercise conducted from RAAF Base Darwin and RAAF Base Tindal from 29 July to 19 August 2016. More than 2300 personnel and up to 110 aircraft will participate. Nations represented will include: Australia, Canada, France (New Caledonia), Germany, Indonesia, Netherlands, New Zealand, Singapore, Thailand, Turkey and the United States.

For further information visit www.airforce.gov.au/pitchblack16 or email PB.media@defence.gov.au.

Join in and write your own page! It's easy to do. How? Simply click here to return to Darwin 2016 Calendar.