Since March 2020 life as we know it has changed forever due to the coronavirus COVID-19

Local businesses are adjusting to the 'New Normal', please check with the advertised contact for any updates or changes to an advertised service.
Exquisite Hand-Made Gift Cards
by Dekara
(Darwin)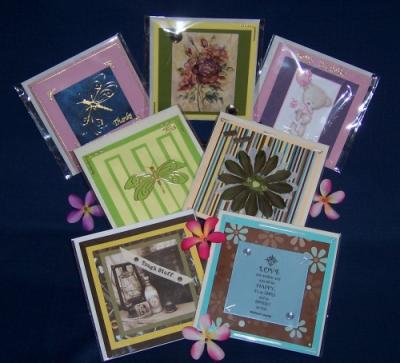 Individually wrapped handmade Gift Cards
Exquisite HandMade Gift Cards by Dekara
This Darwin based lady is proud of her very wide range of exquisite locally hand made gift cards. Dekara's gift cards are all very unique, with a bundle of love & attention to detail going into each card.

You can also request your own theme for that special occasion. All gift cards come individually wrapped with an envelope.
Dekara has kept her gift card price very reasonable so they are affordable for everyone to enjoy & experience the happiness they can bring.

We have two sizes available
Large Gift Card @$5.95 each (140 x 140 mm)
Small Gift Card @$3.95 each (75 x 100 mm)

See Dekara at the Darwin Mindil Beach Markets

To make an enquiry or request a special gift card please e-mail dekara@y7mail.com

or
phone her on 0429373851


Wholesale orders welcome in bulk.

Also available at the Territory Craft Shop in Parliament House.