Since March 2020 life as we know it has changed forever due to the infectious, deadly coronavirus COVID-19
Darwin is currently fighting to prevent the spread of this disease with almost every aspect of normal life affected.
As governments everywhere restrict everything from international travel to any local activities which allow the virus to spread,  only essential and necessary activities are permitted.
To read the latest information see the Secure NT website
Final Notice
by Duncan Rae
(Alice Springs)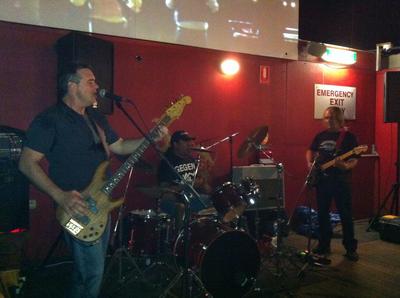 Final Notice is a 3 piece pub rock cover band
from Alice Springs.
Our music includes but is not limited to songs by Paul Kelly, Hunters and collectors, Cold Chisel, The Angels, The Screaming jets, The Goanna band. Australian crawl, Men at work, Dragon, Pink Floyd, The Rolling stones, Van Morrison, John Cougar Melon camp, Green day, Oasis, Joe cocker, The Beatles, Kiss, Devo, Martha and the muffins and Stevie Ray Vaughn.
Final Notice is a hard working, high energy band, we don't take breaks unless venues particularly want us to. We are coming to Darwin at Easter time 2013, and are available for bookings now.
Please phone Duncan Rae for all enquiries on 0498 477 917.
Final Notice is Duncan Rae (bass guitar, acoustic guitar and vocals) Denis Persons (electric guitar backing vocals) and Craig Tilmouth (drums and vocals)