Since March 2020 life as we know it has changed forever due to the coronavirus COVID-19

Local businesses are adjusting to the 'New Normal', please check with the advertised contact for any updates or changes to an advertised service.
Gangsters Ball at Berry Springs
by Ted
(Darwin)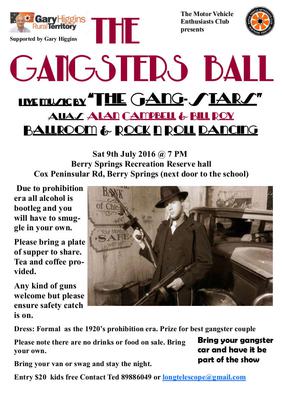 Remember the Gangster Ball @ Berry Springs
The Gangsters Ball at Berry Springs for local mobsters

Live music by "The Gang-Stars"

Alias Alan Campbell & Bill Roy

Ballroom & Rock n Roll dancing

Saturday 9 July 2016 @ 7pm
Berry Springs Recreation Reserve hall
Cox Peninsular Rd, Berry Springs (next door to the school)

Due to prohibition era all alcohol is bootleg and you will have to smuggle in your own.

Please bring a plate of supper to share
as there are no drinks or food on sale.

Tea and coffee provided.

Tommy guns and all other guns welcome please ensure safety is on.


Dress: Formal as the 1920's prohibition era.
Prize for best gangster and moll couple.
Drive your gangster car and have it be part of the show
Bring your van or swag and stay the night. Alternatively accommodation
available nearby at Lakes Resort. For accommodation book well in advance.
Entry $20 kids free
Counterfeit notes not accepted
Bookings welcome
Motor Vehicles Enthusiasts Club Inc