Since March 2020 life as we know it has changed forever due to the infectious, deadly coronavirus COVID-19
Darwin is currently fighting to prevent the spread of this disease with almost every aspect of normal life affected.
As governments everywhere restrict everything from international travel to any local activities which allow the virus to spread,  only essential and necessary activities are permitted.
To read the latest information see the Secure NT website
Getrocked Studio Gallery
by Peter Jettner
(Humpty Doo)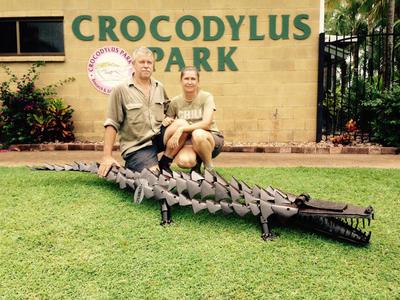 Crocodile by GETROCKED
GETROCKED STUDIO/Gallery is located in Humpty Doo. We create and sell Rustic garden sculptures ranging from letter boxes to animals and various garden features. We also sell Collectables and Mineral specimens.

We are open on weekends 10 am to 4pm. Feel free to pay us a visit and have a look at what you can do with recycled metal.

Check website for more details www.getrocked.net.au or phone Peter 0417813309.
Join in and write your own page! It's easy to do. How? Simply click here to return to Darwin crafts.