Good Luck Gifts
by Margaret
(Parap)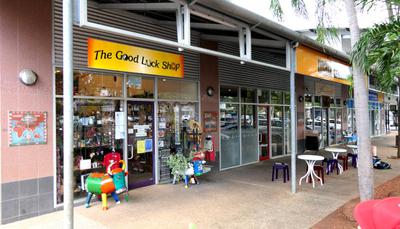 The Good Luck Shop has closed permanently.
Incense! Essential oils! Feng Shui! Cards! Jewellery! Tarot! Windchimes!
The Good Luck Shop is now permanently closed.
The Good Luck Shop is well known for its extensive and
fascinating
range of Giftware from all over the world: tubular bells to garden sculptures, hammocks to candelabras, wine glasses to African masks, djembe drums to mandarin ducks,
fun
and educational children's craft, toys and musical instruments.
For something more personal, choose from
exquisite
amber, silver and gemstone jewellery, talismans, books, music, incense, massage oils, soaps and crystals.
The Good Luck Shop houses
fantastic
local wares including Deb's Heads creatures, Liana's mosaics, Laureen's silks, Michelle's dichroic glass jewellery, Sharon Davey's eco jewellery, Peter Browne's contemporary indigenous lino prints, Jono's photographs and Jim Schofield's
unique
furniture.
Handcrafts from communities working towards economic independence include metal garden sculptures from Zimbabwe, musical instruments, woven grass hats, baskets and fans from West Africa and hand-woven TAIS cloth bags, scarves and cushion covers from Timor-Leste.
The range is truly amazing; you've got to see it to believe it!
The Good Luck Shop has something for everyone with a wide choice of great gifts in every price range & parking is easy. So come in and enjoy the experience of shopping in
The Good Luck Shop – cool, relaxing, easy!