Since March 2020 life as we know it has changed forever due to the infectious, deadly coronavirus COVID-19
Darwin is currently fighting to prevent the spread of this disease with almost every aspect of normal life affected.
As governments everywhere restrict everything from international travel to any local activities which allow the virus to spread,  only essential and necessary activities are permitted.
To read the latest information see the Secure NT website
Honda CRV 2001 Automatic
by Steve
(Darwin)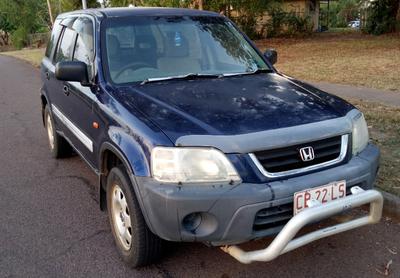 SOLD
Car runs well for it's age. Strong engine, auto transmission with overdrive. Clean and neat interior, paint work fading with a little bit of peeling, some cosmetic issues as described below and in the attached images. Roadworthy until Jan 2019. Registered for just under 2 months June 22 2018. 218k on the clock. No A/C sorry, shat itself, no idea why.. New rear window due to Cyclone Marcus smashing original.
Radio works, but no sound coming from speakers, something to do with the wiring in of the new rear window, was working fine and can't be bothered trying to fix it. Some cosmetic damage on passenger side rear door but doesn't affect door function or look too bad. Fading on bumper bars and some shopping car park minor cosmetic rear bumper damage, not an issue.
Could do with a minor service, needs new windscreen wipers too.. Some very minor TLC required.. Tyre's are OK
These cars are tanks, they can not be destroyed by mortals..
To and from work car for 4 years, replaced battery a year or so ago, no other issues. Reliable little run about..

Join in and write your own page! It's easy to do. How? Simply click here to return to Cars for Sale.