Since March 2020 life as we know it has changed forever due to the coronavirus COVID-19

Local businesses are adjusting to the 'New Normal', please check with the advertised contact for any updates or changes to an advertised service.
Kamfari Motorcycle Mud Race
by Clint Holmes
(Darwin NT Australia)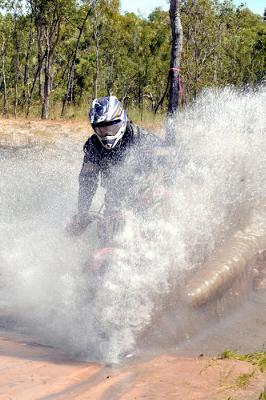 Kamfari Mud Race
The Kamfari is held annually by DMCC.

The Darwin Motor Cycle Club was formed in 1947 and through various changes has been the home of dirt bike riders ever since.

Now DMCC Incorporated, it holds Moto-X Enduros, Pony-express's and trail rides on various track in and around Darwin and the N.T.


2012 Events
Thumpers
19 February
11 March
25 March
15 April
Kamfari
6 May
Pony Express
1 July
19 August
7 October
Boulderdash Enduro
1&2 September
Boulderdash Tour
16 September
Fun Day
25 November
AGM and Presentation
2 December
2011 Program
Kamfari Mud Race- 40th Anniversery
1st of May....Kamfari; 4 hours of mud mayhem. Riders on their machines fight the mud and slush just south of Darwin near Black Jungle. Bike and quad competitors are on their own and not allowed any help. Food, drinks and bar on site. 2 helicopters for sight seeing.
Drive down Gunn Point Rd. till the end of the bitumen and then 4 and a half kilometres further on. Road conditions suit normal family cars. This is the 40th Anniversary of this race.
Admission is $10.00, No dogs and no glass allowed.