Since March 2020 life as we know it has changed forever due to the coronavirus COVID-19

Local businesses are adjusting to the 'New Normal', please check with the advertised contact for any updates or changes to an advertised service.
Kevin's Mobile Disco
by Kevin Jacobsson
(Darwin Northern Territory)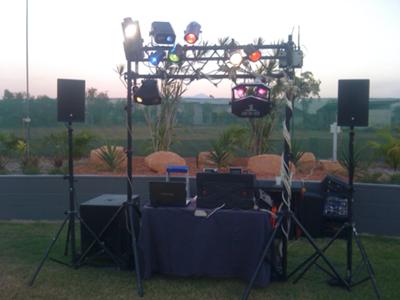 Kevin's Mobile Disco
Is a Northern Territory—Darwin Based Business
and has been Operating since 1984.

Kevin Jacobsson is the Manager / Owner Operator
of the business, and has a wide variety of music from 50s 60s 70s 80s 90s 2000s and today's music also Country,
some Christian, Blues & Jazz.

Kevin's Mobile Disco has done functions in most of the Hotels & Clubs, Schools & Colleges inc. Private functions in CBD, Suburbs and Rural.

Kevin's Mobile Disco has the OCHRE CARD nescessary doing functions for School Socials and Youth Groups and works closely with the Northern Territory Blue Light Disco.

My business and I are a Proud SUPPORTER of The Relay For Life/ Dragon's Abreast & Dragon boating N.T./ Variety Club N.T./

I also go to the Palmerston water Park and Leanyer Recreation park witch both are run by the YMCA of the NT, The Waterfront, Fun In The parks and other Functions run By The City Of Darwin Where I Provide Music Entertainment for their varied community events.


Kevin's Mobile Disco
Has the Music for You

"Let's Make Your Party"

Weddings, Birthdays, School Socials, Youth Groups,
Christmas & Graduations
-All Functions –


General Quotes
Local CBD &
Suburbia
Minimum...
4 Hours $500.00
5 Hours $550.00
6 Hours $600.00
7 Hours $650.00
8 Hours $700.00
This includes setup and pack down
(GST) is NOT - Charged
on Invoice Total

~~ Berrimah & Beyond (Rural)
$30.00 Extra TRAVEL charge

~~ ~~ (Further Travel Down The Track) ~~ ~~
* Extra Charge will Apply for travel & fuel,
On Negotiation of Booking

** Schools & Youth Groups
Special Rates Apply
On Negotiation of Booking


*** KMD's Bookings Policy
On Negotiation of booking

Deposit $100.00
Cancellation $200.00

Quotes & Charges Are Subject
To Change without Prior Notice

** ** ** ** ** ** ** ** ** **

For Bookings phone :- 08 8927 1982 :-:
or Mobile :- 0410 744 954

Email: kevinsmobiledisco@yahoo.com.au


Post:
P.O. Box 42437
Casuarina 0811
Darwin N.T.




Join in and write your own page! It's easy to do. How? Simply click here to return to Musicians.