Mason Gallery Aboriginal Art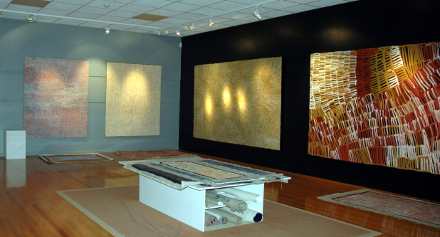 Aboriginal Desert Art on Display
The origins of the Mason Gallery began in September of 1982 when the owners of the gallery, Reg Mason and Family, went into Arnhemland for the purpose of work. It was not long after this that the local aboriginal population of the Oenpelli area, approached Reg to buy their paintings. He did this for some time, but as time went, the quantity of work coming in became so great that he found it necessary to market some of the work
Over the next few years, he became the largest dealer of work from the Western Arnhemland area. In the end, Reg and his family lived in Arnhemland for 20 years. His children grew up with the local community and the family were widely recognised as being culturally acceptable by the local clans.
Major galleries around the country were supplied with work and many of the works that now hang in the Museums and Public Art Galleries around Australia and the rest of the world had their origins with Arnhemland Art.
Arnhemland Art was in operation before many of the community based art Centres that exist now.
In 1997, the Arnhemland Art Gallery was opened in Darwin by Vicki our daughter, for providing a retail outlet for the work coming out of Arnhemland. This gallery was relatively successful but as time went, it was found that many people wanted to purchase works from the Central Regions of Australia. It was decided that in future this would be the type of work that was to be sourced and provided for sale. The name of the gallery was changed to Mason Gallery to reflect this change.
Tony Mason our son moved to Alice Springs 2001, where he now sources the Central Australian Works.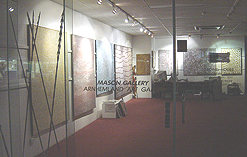 Mason gallery
The Mason Gallery now displays works by many of the major artists from the Western Desert areas and it is the ambition of the gallery, to become a provider of quality works from the area. I believe that the Mason Gallery has achieved this.
The Mason Gallery is a Family operated business and has been operating 30 years.
Reg Mason passed away due to illness and a very good friend of his, Shirley Collins, a distinguished aboriginal art consultant, is now assisting at the Mason Gallery.
This article was kindly supplied by Debra Mason
Mason Aboriginal Art Gallery 7/ 21 Cavenagh St, Darwin NT 0800
P O Box 4315 Darwin NT 0801
p: +61 (0) 8 89819622
f: +61 (0) 8 89417699
m: +61 (0) 407611020
e: info@masongallery.com.
www.masongallery.com.au
---
Return from Mason Aboriginal Art Gallery to Enjoy Darwin Home.
---