Since March 2020 life as we know it has changed forever due to the coronavirus COVID-19

Local businesses are adjusting to the 'New Normal', please check with the advertised contact for any updates or changes to an advertised service.
Nissan Pathfinder 1994 for $5800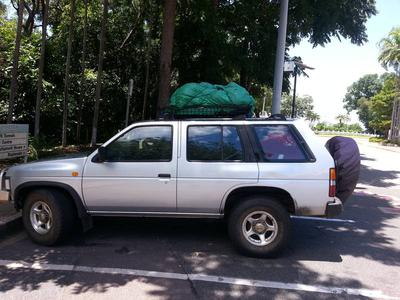 Hi I am Moving Overseas so i need to sell my well maintained Nissan Pathfinder 1994 ASAP. It comes with following features.
- New Tyres including spare wheel
- Full Service history
- Toolbox
- Power windows and Central lock
- oil and filters change recently
- smooth Engine which never been smoked or troubled
- Rack on the top of car to keep extra luggage, bull bar
- CD Player
- Spark plugs working fine, car has been driven 6800 kms after timing belt been change so new belt.

Also i have accumulated lot of things during my travel which comes for free with car.
- Surfboard, bodyboard, snorkelling gears
- Electric converter to charge your mobile, laptop other electric equipments
- 2 chairs 2 tents 2 mattresses
- Fishing gears with more than 3 fishing rods and reels and other stuff needed for sihing
- 2 cooking Stove with gas bottles
- All the necessary things require for cooking eating and drinking it includes plates, dishes, pans, bows, cutlery, knives etc.
- Night lamp
- Foot pump
- 25 ltr Jerry can, oil can

Its one of the best 4wd model ever been made (google it) :) i have to sell it ASAP as i am moving overseas for good couple of years. Car has been well maintained by me and previous owners and also been regularly serviced. Its perfect deal for traveller who like camping or fishing or 4wd trip a lot. car is awsm for 4wd track.

I am asking for $5800 but i can accept reasonable offer If you interested. please contact me (Josh) on 0434638824 or 0469 061 859

Also, If you recommend someone successfully i am willing to pay you $100 Commission as i have to sell this car ASAP. Sounds good? :)
Join in and write your own page! It's easy to do. How? Simply click here to return to Cars for Sale.