Northern Territory Childrens Books
by Lyndall Stavrou
(ANULA NT)
Baby Bilby - Illustrated by Jann Forge
These Childrens Books written by Lyndall Stavrou capture the experience of her life in remote communities with an earnest simplicity.

Lyndall lived and worked in the Northern Territory for over thirty years.

After a long and rewarding teaching career, many positions which were in remote communities, she is now semi-retired and writing books about the NT.

Her rich experiences while living and working with Indigenous people in the Northern Territory are the inspiration for these books.

Order Books Online here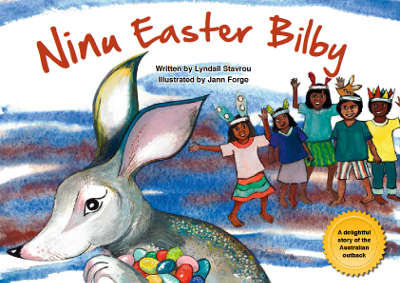 NEW

Ninu Easter Bilby

This is her second book about the bilby.

Bilbies live out in the bush not so far from where she taught at some remote schools. The purchase of chocolate bilbies rather than rabbits at Easter time will help to publicise the

plight of this cute, endangered animal.

Napangardi's Bush Tucker Walk

is a book in which she has drawn on her rich experiences living and working in remote locations of the Territory.

The author taught at Mungkarta School from 2002 until 2006 where she saw some of the traditional food gathering. Students often brought bush tucker to school.

It is hoped that this story will contribute to the maintenance of Indigenous culture and language in the Barkly region.

The Indigenous words for the animals and bushtucker are Alywarre, the language of Mungkarta and some other places in the NT.

Baby Bilby and the Wildcat

is inspired by the unique landscapes, animals and the traditional food gathering and hunting of the Indigenous people of the Territory.

About the Illustrator

Jann Forge has lived in the Northern Territory for over thirty years. Her art in these books is inspired by the colours and textures of the Barkly region and the central desert landscapes, the wildlife and people who live there.

The

Yellow Dog

story is based on a dog adapted by the family while living and working in an Aboriginal community, Kowanyama, on Cape York Peninsular. Part Dingo, he was a little different from most dogs, using his long dingo claws to occassionally climb trees, dig waterlilly roots from the creek generally behave like his ancestors.

About the Illustrator

Jenny Taylor is one of Western Australia's most recognised Artists. Her paintings now hang in many places throughout the world. Living in Busselton in the south west of WA, Jenny has been painting fulltime since 1985. In addition to originals for sale, her artwork is available as prints, on glassware and other objects.

www.jennytaylor.com.au

The books are designed to celebrate Indigenous culture of the NT.

For more information contact:

Lyndall Stavrou

Mobile 0447327601

Email

lyndall.stavrou66@gmail.com
ORDER BOOKS DIRECT FROM THE PUBLISHER.
Retail price..$15.00 Wholesale (resellers) price..$10.00
Books also available from good bookshops
throughout the Northern Territory
HOW TO ORDER
Email lyndall.stavrou66@gmail.com.
Mobile 0447 327 601
HOW TO RECEIVE YOUR BOOKS
Books may be delivered to you. If posted, there will be a small additional charge..
HOW TO PAY FOR YOUR BOOKS
When we have your order, an invoice will be emailed to you for payment. The invoice shows bank details for online banking
or walk into any branch of the bank.
Alternatively, payment can be made by cheque or money order. Our address is on each invoice.
PROMPT PROCESSING OF ALL ORDERS LARGE AND SMALL