NT Adventure Park Quad Bike Tours
by Kirsty
(Darwin)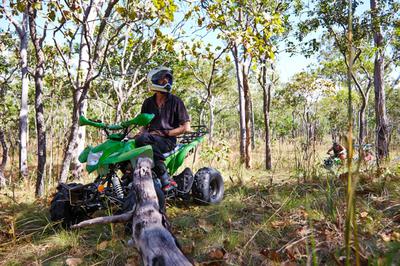 NT Adventure Park Quad Bike Tour
NT Adventure Park is located just 40 minutes from Darwin and 30 minutes from Palmerston just past Berry Springs on the way to Dundee.

Visit our website today @ www.ntadventurepark.com for all of our tours.

TOUR TIMES
Tours start at 9:00 am and 1:00 pm on Mondays, Fridays, Saturdays and Sundays.

DESCRIPTION
Enjoy a ride on your own quad bike through pristine savannah woodlands on dirt tracks. Experience the unexplored Finniss Range with views of the vibrant wetland ecosystem. A short hike will take you to the lookout, where you have a spectacular view of the riparian vegetation of Annie River. Here you can experience the isolation previously only familiar to early NT explorers. Guides will introduce you to native plants and vegetation along with the rich cultural history of the Charlotte region.

WHAT IS INCLUDED
•Free parking
•Goggles
•Helmets
•Hearing protection (ear plugs)
•Cold water
•Sunscreen

WHAT TO BRING
•Closed-toe shoes are required for your safety (water booties/crocs okay).
•Long pants and long sleeve tops are recommended but not required.

GOOD TO KNOW
•Be sure your clothing and personal items will withstand the dirt, possible mud, water and the bouncing around!
•All drivers MUST present a valid driver's license. If under 18 must be accompanies by an adult.
•All drivers MUST present a valid credit card to hold at check-in for any negligent damages to the vehicle on the tour.
•Pregnant women or anyone with heart, neck or back problems are NOT allowed to participate.
•For the safety and comfort of all participants, the recommended maximum weight per vehicle is 150kg.
•Check in 15 minutes prior to scheduled tour commencement time.

CHECK-IN LOCATION
NT Adventure Park @ 135 Coda Road CHARLOTTE NT 0822
FREE parking located along Coda Road within designated parking areas.
"Lock IT or Lose IT".

Follow the NT Adventure Park signs to the "outback lounge" where you will be greeted by your friendly tour guide.