Since March 2020 life as we know it has changed forever due to the coronavirus COVID-19

Local businesses are adjusting to the 'New Normal', please check with the advertised contact for any updates or changes to an advertised service.
NT Adventure Park Quad Bike Tours
by Kirsty
(Darwin)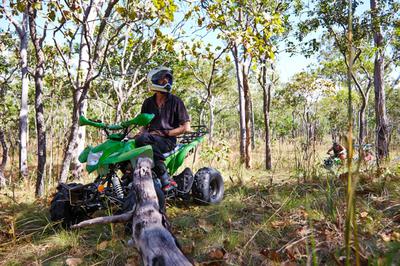 NT Adventure Park Quad Bike Tour
NT Adventure Park is located at Batchelor just one hour from Darwin off Stuart Highway.
Visit our website today @ www.ntadventurepark.com.au for all of our tours.


TOUR TIMES
Tours depart daily at 9am from the Batchelor General Store located at 33 Tarkarri Road in Batchelor
Be sure to get there by 8:45am so you don't miss the bus….


DESCRIPTION
Enjoy a ride on a quad bike through Rum Jungle in Batchelor on dirt tracks with your tour guide.
Experience the unexplored wilderness.
The tour will take you to lookouts, where you have a spectacular view of Rum Jungle.
Here you can experience the isolation previously only familiar to early Northern Territory explorers.
Guides will introduce you to native plants and vegetation along with the rich cultural history of the Batchelor and Litchfield regions.
See kangaroos, frilled neck lizards, reptiles, and a mountain of wildlife in their natural environment.
NT Adventure Park is the only group operating in the area so your experience will be a unique one.

WHAT IS INCLUDED
•Free parking at Batchelor General Store located at 33 Tarkarri Road in Batchelor
•Goggles
•Helmets
•Cold water
•Sunscreen

WHAT TO BRING
•Closed-toe shoes are required for your safety (crocs okay).
•Long pants and long sleeve tops are recommended but not required.

GOOD TO KNOW
•Be sure your clothing and personal items will withstand the dirt, possible mud, water and the bouncing around!
•Pregnant women or anyone with heart, neck or back problems are NOT allowed to participate.
•For the safety and comfort of all participants, the recommended maximum weight per vehicle is 150kg.
•Check in 15 minutes prior to scheduled tour commencement time.

AGE LIMIT
We can take children aged 12 and over.
All of our quads are automatic and very easy to operate.


CHECK-IN LOCATION
FREE parking located at the Batchelor General store at 33 Tarkarri Road, Batchelor, within designated parking areas.

Don't forget to….."Lock IT or Lose IT".