Since March 2020 life as we know it has changed forever due to the coronavirus COVID-19

Local businesses are adjusting to the 'New Normal', please check with the advertised contact for any updates or changes to an advertised service.
SAM's Dance Studio
by Sheree Lynn
(Palmerston NT)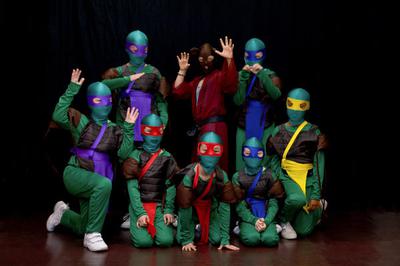 Moon Walkers
This event has no new 2023 dates listed. Please contact the organiser directly with any queries.

Hip hop, Jazz, Tap, Contemporary and
Ballet classes for all ages over 3yrs in
Gray and Howard Springs!!
Co-Principle's/Owners: Sheree Lynn & Renae Jackson have both been dancing for 28yrs and instructing and choreographing for 18yrs.
Dance Instructors: Erica, Lily, Tania and Sam
Student Teacher: Maddi, Tamara, Tyla, Sam and Ted

Hip hop/Jazz class - The most popular style. It is a modern style of dance which is up-beat, funky and a lot of fun.

Boys Hip Hop class - This class is for boys only and hip hop based.

Tap - Get your tap shoes out and shuffle around to the latest hits!

Contemporary -Similar to ballet but less strict and more open to interpretation.
The students will still learn techniques and dance to slower modern music.
Ballet – A classical style of dance based on strong Technique.

All classes run for 1 hour, except for Private lessons. These dances are then performed at the markets, festivals and Eisteddfods in Palmerston, Rural and Darwin areas and also at the end of year concert.
Private Lessons- We provide private lessons for 1 student or a shared lesson for 2 students.


NEW ENROLMENTS FOR TERM 3 IN THE JULY SCHOOL HOLIDAYS' Please visit www.samsdancestudio.com.au to enrol.
EXCITING NEW LOCATION IN PALMERSTON!
Class Locations


1. Gray Studio: 9/10,18-20 Essington Avenue, Gray, NT 0830 (behind the Gray shops)

2. Howard Park Recreation Reserve,
Howard Hall 325 Whitewood Rd, Howard Springs
2016 Class Timetable
DAY
TIME
CLASS
STUDIO
TEACHER
Monday
3.30pm

Contempory


Twinkle Stars
4-7yrs
Gray
Studio
Kym/Tyla
Monday
4.30pm

HipHop/Jazz


Jumping Jacks
4-6 yrs

Gray
Studio
Kym/Raquel
Monday
5.30pm

Hip Hop/Jazz


Funky Monkeys
7-9yrs
Gray
Studio
Sheree
Monday
6.30pm

Hip Hop/Jazz


Break Dancers
10-14yrs
Gray
Studio
Sheree
Monday
7.30pm

Hip Hop/Jazz


Hip Hoppers
15yrs & over
Gray
Studio
Sheree
Tuesday
3.30pm

Hip Hop/Jazz


Wiggly Worms
4-6yrs
Gray
Studio
Renae/Alex
Tuesday
3.30pm

Hip Hop/Jazz


YoYo's
4-6yrs
Howard Hall
Howard Springs
Lily
Tuesday
4.30pm

Hip Hop/Jazz


Moon Walkers
All Boys 4yrs& over
Gray
Studio
Renae
Tuesday
4.30pm

Hip Hop/Jazz


Dance Crew
7-9yrs
Howard Hall
Howard Springs
Lily
Tuesday
5.30pm

Hip Hop/Jazz


Head Bangers
7-9yrs
Gray
Studio
Renae
Tuesday
5.30pm

Hip Hop/Jazz


The Groovers
10-14yrs
Howard Hall
Howard Springs
Lily
Tuesday
6.30pm

Hip Hop/Jazz


Party Rockers
10-14 yrs
Gray
Studio
Renae
/Maddi
Wednesday
3.30pm

Hip Hop/Jazz


Movers & Shakers
4-6 yrs
Gray
Studio
Sheree/Kayla
Wednesday
4.30pm

Hip Hop/Jazz


Galaxy Gang
7-9 yrs
Gray
Studio
Sheree
Wednesday
5.30pm

Contemporary


Sparkling Sapphires
8-11 yrs
Gray
Studio
Sheree
Thursday
3.45pm

Hip Hop/Jazz


Crab Walkers
3-4 yrs
Gray
Studio
Tania/
Tyla
Thursday
4.30pm

Tap


Frog Stomps
4-7 yrs
Gray
Studio
Sam/Ted
Thursday
5.30pm

Tap


Tap Dogs
8 yrs & over
Gray
Studio
Renae
Thursday
6.30pm

Contemporary


Silky Gliders
12 yrs & over
Gray
Studio
Renae
Friday
4.30pm

Hip Hop/Jazz


The Crumpers
7-9 yrs
Gray
Studio
Lily
Friday
5.30pm

Hip Hop/Jazz


The Mob
10-14 yrs yrs
Gray
Studio
Lily
Saturday
9.00am

Hip Hop/Jazz


Dare Devils
4-8 yrs
Gray
Studio
Bianca/Sam
Saturday
10.00am

Ballet


Twirling Tutus
4-6 yrs
Gray
Studio
Bianca/Sam
Saturday
11.00am

Ballet


The Pointers
9 yrs & over
Gray
Studio
Bianca
Please note-ALL classes are CLOSED during school holidays and some public holidays. If you are interested in any of these classes or have any questions regarding this information, please feel free to contact us. Thanks
Sheree Lynn PH: 041 258 0828
shereemawkes@yahoo.com.au
Renae Jackson PH: 0402943138
renae_2304@hotmail.com