Since March 2020 life as we know it has changed forever due to the coronavirus COVID-19

Local businesses are adjusting to the 'New Normal', please check with the advertised contact for any updates or changes to an advertised service.
Territory Wildlife Park

(Northern Territory)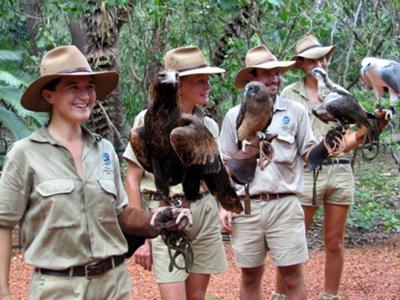 Spectacular Raptors and their Handlers
The Territory Wildlife Park is the ultimate introduction to the Northern Territory, set within 400 hectares of natural bushland including wetlands, monsoon forest and a crystal clear spring.

The Park is a 45-minute drive south of Darwin to Berry Springs. Head south from Darwin on the Stuart Highway, travel about 50km and turn right onto the Cox Peninsula Road.
The Park is about 12 km along Cox Peninsula Road, so keeps your eyes peeled for the big Territory Wildlife Park sign on the right side of the road just after Berry Springs Nature Reserve. View Map here

Accessible all year round and boasting several air conditioned displays ? the Territory Wildlife Park is ideal for any season visit!

It's easy to get around the Park on one of the free shuttle trains, or enjoy discovering the Park along 6km of shaded walking trails. Discover close up, native wildlife such as the magnificent Raptors at the Flight Deck or encounter the creatures of the night in the Nocturnal House.

Take a journey through a Top End river system at the Aquarium and come face to face with a 3.5m salt water crocodile with only millimetres between you. Stroll past bird aviaries in a natural monsoonal forest, explore wetlands at Goose Lagoon or just enjoy a chat with one of our local guides.

Boasting a kiosk, picnic area, gift shop, daily keeper presentations and much more, a visit to the Territory Wildlife Park is a must for both locals and visitors.

For more information visit their website www.territorywildlifepark.com.au
or contact 08 8988 7200.

Join in and write your own page! It's easy to do. How? Simply click here to return to NT Tours.