The Sounds of Music Quiz Night for the Benefit of the Leukaemia Foundation
by Catherine Joyce
(Casuarina, Darwin)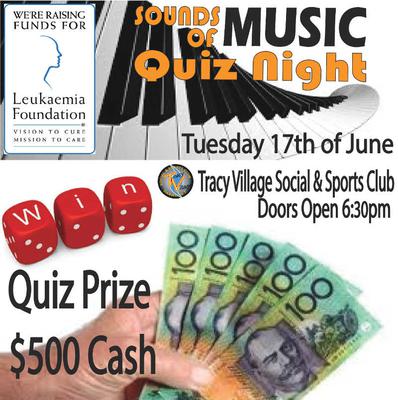 17 June Funds for Leukaemia
Sounds of Music is raising money for the Leukaemia Foundation.
In 2012, Judith Joyce the Company Secretary of Casuarina Sounds of Music was diagnosed and subsequently died of Leukaemia. On the 13th of April 2014 Casuarina Sounds of Music hosted the very first Sounds of Music Quiz Night. It was very well attended with over 140 people there, raising $6527.00.
The Second Sounds of Music Quiz Night of 2014 is on Tuesday the 17th of June.
Entry to the Sounds of Music Quiz Night is $15, which includes complimentary nibbles. Tickets can be purchased at the Casuarina Sounds of Music store, which is located at the Bus Depot end of Casuarina at the top of the escalators.
Tables on the night will be set up for groups 8, 6 or 4.
The Second Sounds of Music Quiz of 2014 will be 4 rounds of mostly musical orientated questions with prizes being given away in each round. There is over $10,000.00 in Prizes to be won. The Main prize for the overall winner of the Night is a $500 cash prize.
Stay until the end of the night and have the chance of winning the door prize. Participate in the Auction, where you have the chance to bid on some great items donated by local business and Musical Instrument wholesalers.
The Auction list includes:
A Tanglewood Acoustic Guitar Discovery Pack Valued at $329
A Fender CD-100CE Acoustic Electric Guitar Valued at $399
A Roland DS-1X Distortion Effects Pedal Valued at $199
A Washburn RX10MB Electric Guitar Valued at $299
A Yamaha RGX420ZIISBL Electric Guitar Valued at $800
A Yamaha YPT330 Keyboard Valued at $330
Also featured in the Auction list will be an assortment of Family Entertainment packages, perfect for the upcoming school holidays. Parents can bid on pack which will contain vouchers to venues like KJs, The Wave Pool and Crocodylus Park.
All Money Raised goes to the Leukaemia Foundation.
When: Tuesday the 17th of June 2014
Where: Tracy Village Social & Sports Club
Time: Doors Open 6:30pm
Cost: Tickets $15
For Booking Information please contact Catherine on 0438839115
or tickets can be purchased in store at Sounds of Music, Casuarina.