Top End Mustangs Line Dancers
by Sandra
(Darwin)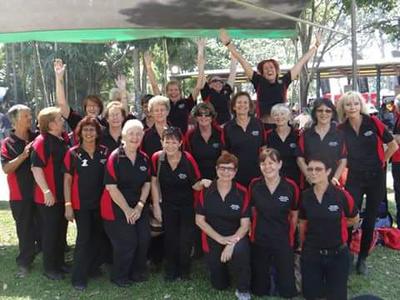 Freds Pass Show demonstration
Line dancing is a great way to enjoy yourself while excercising and meeting new people.
This is done to music ranging from slow waltz numbers to fast rock n' roll music, so come along and join the classes which are available from beginner to intermediate level.


Weekly Classes and Practice Sessions
Monday nights
Coconut Grove Seniors Hall, Musgrave Crescent, Coconut Grove
6.00pm - 7.00pm Beginners class
7.00pm-9.00pm Beginners to Intermediate.
Tuesday nights
6.45 - 7.45 Beginners
7.45 - 9.00 Intermediate
Howard Springs Community Hall,
Whitewood Rd, Howard Springs
Beginners to Intermediate.
Wednesday nights
Top End Mustangs Line Dancing
Coconut Grove Seniors Hall, Musgrave Crescent, Coconut Grove
6.30pm - 8.30pm
Intermediate
Thursday mornings
10am - 12.30pm Beginners to Intermediate
Coconut Grove Seniors Hall,
Musgrave Cres
Coconut Grove
Saturday mornings
Top End Mustangs Line Dancing
Coconut Grove Seniors Hall, Musgrave Crescent, Coconut Grove
10:00am to 12:30pm
Beginners to Intermediate
Contact: Julie 0438852998
mustangs@hotmail.com.au
www.topendmustangs.com.au
www.facebook.com/TopEndMustangs
----------------------------------------------------------------------
Monthly Darwin Wharf Socials
First Friday of Month at 7.00pm
(only during the dry Season)
Wharf dates 2018
3rd August 2018
7th September 2018
5th October 2018
---------------------------