Toyota Troopcarrier 1992
by Jost Krautzun
(Darwin)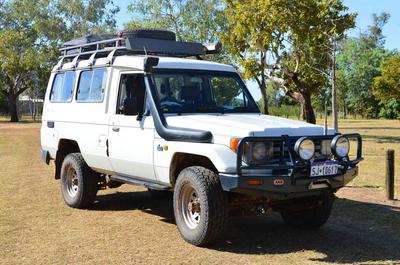 Well maintained and serviced all 5.000 k's, this Troopy run 558.000 k's and can run a lot more. Comes with 10 years of history, 4 new tires and 2 spares, no rust on the frame, only 2 small spots at the body which were treated. Also dual fuel tank (90 liters each, needs 13l/100k), false floor slide out drawer system, dual battery system, snorkel, winch, roofbag, awning, ENGEL Fridge for 11 cans, Esky and all camping and offroad equipment like table, chairs, shower, mattress, shovel, snatchline, cookingequipment etc., all in good condition.


Registered in WA until 30th of September.
The 1HZ will go forever when looked after. Never bought lowbudget stuff for the car and always went to the best car repair shops. Sad to sell it, is the best car for touring.
Recently done work:
- t-belt changed at 540.000 k's
- fanbelt and harmonic balancer changed at 551.000 k's
- new main battery (5.000 k's ago)
- 4 new Toyo open country A/T tires (3.000 k's ago) and 1 brandnew spare, other in good condition
- new fan viscous coupling at 556.000 k's
- new steering joint kit at 556.000 k's
The car is ready to go and has no issues, motor runs pretty smooth, you will not think it run so much.
Text or call 04758 79919 for test drive, questions and inspection.
Cheers, Jost