Understanding Financial Reports Workshop!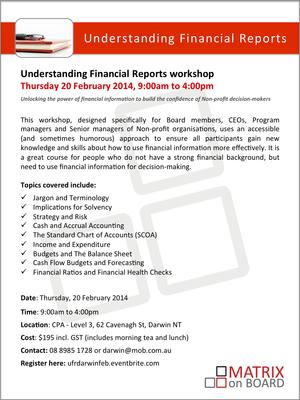 Understanding Financial Reports – Foundation Course
Darwin
Thursday February 20, 2014

About this Course:
This course, designed specifically for Board members, CEOs and Senior Management of Non-profit organisations, uses an accessible (and sometimes humorous) approach to ensure all participants gain new knowledge and skills about how to use financial information more effectively. It is a great course for people who do not have a strong financial background, but need to use financial information for decision-making.

Key topics include:

-Understanding the terminology used in financial reports (eg. Asset, liability, equity, income and expenditure, balance sheet)
-Making sense of cash and accrual accounting, and the impact on revenue and expenditure
-The three reports you cannot do without each reporting period, and how they relate to each other
-Financial analysis ratios and how to do a quick health check on your financials
-Making sense of the Standard Chart of Accounts (SCOA) and what they mean to your business
-Methods of building a budget and using the budget as a financial management tool
-Purpose of the audit and your legal obligations
-The details of the balance sheet, how to read it and what it all means
-The other reports, what the terms cash flow, payables and receivables, depreciation schedule all mean to your organisation

Who should attend?
Senior Managers, Program Managers, Board Members and leaders from non-profit organisations or government and philanthropic organisational staff who need to read grant budgets and acquittals.

Date: Thursday 20 February 2014

Time: 9.00am-4.00pm

Location: CPA- Level 3, 62 Cavenagh Street, Darwin.

Cost: $ 195 ( includes morning/ afternoon tea/ lunch)

Contact: 08 8985 1728 or darwin@mob.com.au

Register on line at: http://www.mob.com.au/
Join in and write your own page! It's easy to do. How? Simply click here to return to Darwin 2014 Calendar.