B52 Bomber at Darwin Aviation Museum
B52 Bomber Display
The B52 Bomber display at the Aviation Heritage Centre in Darwin towers over a replica Spitfire, a Mirage Fighter, an exRAAF Sabre and many more displays of Australia's aircraft history.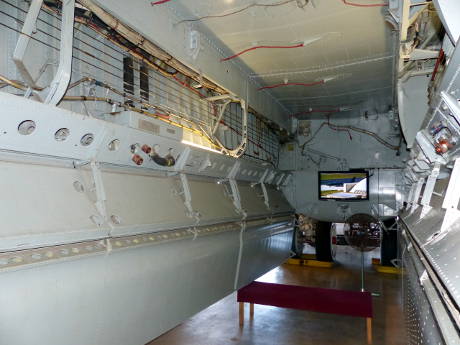 Inside the B52 Bomb Bay
Darwin's location as the first landfall for planes travelling from the UK and its proximity to Asia has ensured it a unique place in Australia's aviation history.

It has also been an important military base for the Australian and US Air Forces and Darwin residents are used to seeing front line military planes in the sky.
The fully refurbished B-52G bomber on permanent loan from the USAF has been on display at the Aviation Museum since it's opening in 1990
The first B-52As were delivered to the Strategic Air Command in 1954 where they became the primary airplane of the command. A total of 744 B-52s were built with the last, a B-52H, delivered in October 1962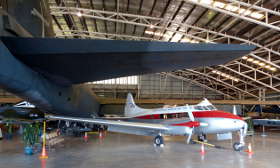 B52 size is shown by a twin prop under the tail.
Only the H model is still in the Air Force inventory and all are assigned to Air Combat Command. The B-52H was designed for nuclear standoff, but it now has the conventional warfare role with the retirement of the B-52G
Over the years the B52's have been modernised with the latest electronics and weapons systems and have a projected life into 2040, although only around 100 are still flying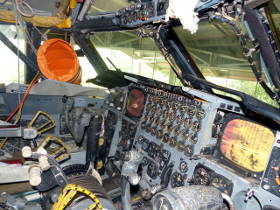 Inside the B52 Cockpit
The B-52 has found other roles. It is used for ocean surveillance: two B-52s can monitor a 140,000-square-mile (364,000-square-kilometer) section of ocean in two hours, helping the navy in anti-ship and mine-laying operations.
NASA also owns a B-52 that has served as an airborne launch vehicle for test flight for projects such as the X-15, lifting bodies, rocket boosters, the X-38 crew return vehicle and other elements of the agency's aeronautics and space programs.
The Aviation Heritage Museum is located at 557 Stuart Highway Winnellie (Opposite Darwin Showgrounds)
Open Daily 9:00am - 5:00pm.Closed Good Friday and Christmas Day.
A place of special interest in the history of QANTAS Australia is the hangar at the site of the original Ross Smith Airfield in Parap. Now it is used as a display for both Aviation History and Motor Vehicle history.
---
Return from B52 Bomber Display to Enjoy Darwin Home
---