QANTAS Australia
QANTAS Empire Airways Ltd
The history of QANTAS Australia is closely tied to Darwin and includes the QANTAS Empire Airways Ltd Hangar, part of the original Darwin Civil Aerodrome at Parap.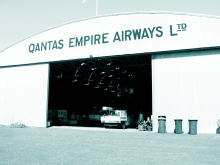 The only substantial relic of the former Darwin Civil Aerodrome is the aircraft hangar built in 1934 for QANTAS Empire Airways Ltd.
Darwin was a critical link for air travel between Europe and Australia in the early days of commercial aviation before the advent of modern aircraft which could fly long distances non-stop.
The Darwin Civil Aerodrome was the first stop in Australia for all flights and played an important role in Australian Aviation history. Ross and Keith Smith landed here when they won $10,000 by winning the first England to Australia air contest.
The hangar was built in time for the 1934 Centenary Air race, sponsored by Sir MacPherson Robertson, which carried a £10,000 prize.

Bullet holes from the bombing of Darwin
Used by the first Australia-Europe air service (operated by Qantas) and the first Adelaide-Darwin service (operated by Guinea Airways), it was nearly destroyed by Japanese bombers in 1942.

The scars of this are still visible as bullet holes in the steel beams of the hangar.
For more information on the history of aviation in Australia, visit the QANTAS Founders Museum in Longreach
Planning for a new Darwin airport had started in 1937 and by 1946 all aircraft were using the new airfield and The Dept. of Civil Aviation began using this hangar as a mechanical workshop. Later it was used by DCA for off site storage.
The Hangar is now listed on the Register of the National Estate and the NT Heritage Register and owned by the Dept. of Arts and Museums.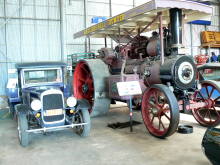 Car Museum - QANTAS Hangar
Since 1999 the MVEC have leased the hangar and it is now an interesting museum of both the Aviation industry and Motor Vehicles in Australia.

The Motor Vehicle Enthusiasts Club Inc (MVEC) is the main motor enthusiast club in the NT.

View Original Darwin Runway in a larger map

Visit The Aviation Heritage Museum for more of Darwins aviation history, including a B52 bomber and F111 swing wing fighter.
---
Return from Qantas Australia to Enjoy Darwin Home.
---