Barefoot Wedding in Darwin
A barefoot wedding might not seem very romantic, but the beautiful sailing ketch "Starchaser" on the blue waters of Darwin Harbour and a golden sunset can turn a girl's heart to romance, even from afar.
Read how Jackie travelled 4000 kilometres for her dream barefoot wedding.
My partner and I had been together for a long time; we had two kids and a mortgage and had come to a time in our lives where we were at a crossroad.
Life was a chore. In reflection, we never did any of the things we said we were going to do. Since having our kids, we had even stopped travelling. The things we had in common and the things we had wanted to do together just got pushed to the side. We needed to wake up and live again. So that?s what we did.
One of our "gunnas" was to pack up home and see our country, a land that both of us love with all of our hearts, but quite typically we had not even known the half of it. After a few months planning, we did it. We left life at the cross roads down in Sydney way and just left. We told our families the most of it, but did leave a few little details of our plans out, destination Darwin was to be our secret.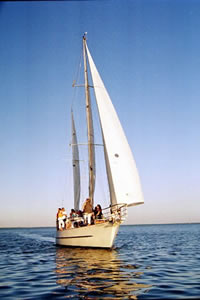 Starchaser under sail
Our Darwin stop was the only one we actually made any prior plans, or bookings for, with the exception of Kakadu, which was our intended direction after Darwin. The idea came to me after flipping through a few glossy brochures here. After gazing over the photographs of the amazing golden sunsets and romantic slow sailing ships over an ocean so perfectly blue it looked surreal, I knew I wanted a Darwin wedding.
I found a charter offering a "sails in the sunset cruise" from Cullen Bay, if nothing else the name was perfect. After a few moments on the phone, I was pleased that they were happy to welcome a wedding on board, so booked for a JP, a photographer, my partner and I and our two kids. It wasn?t to be a private charter, we really didn?t want an elaborate, private function, we just wanted to be doing something a little bit different, if two 30 something year olds eloping with their two kids in tow wasn?t different enough. At short notice, I was thankful to find a JP near who would perform the ceremony, and even luckier to find a world class photographer, Terry Knight, who even though his company, DigiFilm Australia, was booked solid was so sweet as to come and photograph our barefoot wedding himself.
I cannot compliment the people of Darwin near enough. We limped into Darwin late one October night after spending a couple of months on the road living an adventure on the way. We were in fact a day early and had no room booked for the night, so per chance we had hoped that our hotel might have somewhere for us to stay until our room was ready. Instead of making us feel like we were asking for a favor, we were welcomed liked expected guests.
Although being on a budget, we booked affordable accommodation, the service and friendliness of the hotel owners and staff, and the presentation of the rooms was 5 stars all the way in my book.
Our JP also was an amazing man and welcomed us into his home the next morning so that we could tend to the final paperwork and plans just a day before our barefoot wedding. Certainly, if a city was to be judged by the people and the way they welcome guests, Darwin is second to none.
The wedding itself was just incredible, as we boarded the beautiful sailing ketch "Starchaser", and I was delighted to comply with sailing standard of removing my high heeled shoes. I hate shoes and having a barefoot wedding in the sunset was, for me, perfect. The captain and the crew, and the other guests aboard the Starchaser were the cream. My wedding was perfect, and I believe it was the people of Darwin that made my wedding everything I wanted it to be.
I will always remember the people of Darwin, their smiles and how nothing was too much to ask. The sunset itself was everything that it promised to be.
There are no over statements about Darwin. In fact, all the wonderful things you might hear about the casual warm and genuine friendliness and welcoming charm, the incredible colors, is all completely understated.
---
Return from Barefoot Wedding to Enjoy Darwin Home
---