Since March 2020 life as we know it has changed forever due to the infectious, deadly coronavirus COVID-19
Darwin is currently fighting to prevent the spread of this disease with almost every aspect of normal life affected.
As governments everywhere restrict everything from international travel to any local activities which allow the virus to spread,  only essential and necessary activities are permitted.
To read the latest information see the Secure NT website
Brinjen's Acrylics
by Brinjen
(Millner, NT, Australia)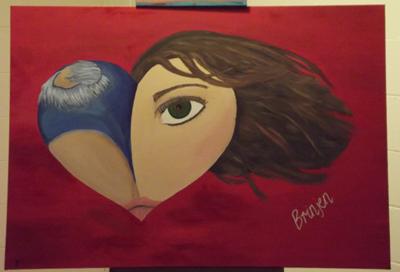 Punk At Heart
Brinjen's Acrylics -Painted from the Heart

I can't remember how old I was when I first picked up a paintbrush... but I've never wanted to put it down since.

I love colour... I love creating pieces that can't be photographed but look convincing enough to believe they were... that's my passion.

I'm now 39 and just starting to take my artistic tendency seriously... I'm aiming to make this a career... and I can't think of a better way to spend the rest of my life doing.

Brinjen
brinjen@computing-addicts-forum.com
Join in and write your own page! It's easy to do. How? Simply click here to return to Darwin crafts.