Swim with Australian Crocodiles
Swim with Australian Crocodiles, pat a Python, watch divers hand feeding fish and turtles at Crocosaurus Cove in the main street of Darwin.

Goannas, Frill Neck Lizards, Geckos, Frogs, Rare Pythons and other snakes and Turtles all help make this a unique reptile park.

Plan on allowing some time here, there are nature documentaries running throughout the day and lots of other exhibits which explain and illustrate how these distinctly Australian animals live.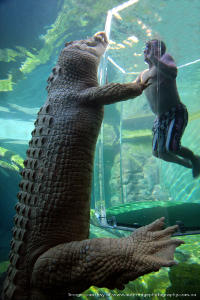 Underwater Crocodile
Take a swim in the Cage of Death to see these massive saltwater crocodiles in their own environment.

An overhead monorail is used to get the perspex cage in position and then lower you into the water for a close encounter.

Of course you know it's perfectly safe, but try telling your adrenaline glands that!

And the park has their own photographers there to record the event for you - well who is going to believe you went swimming with crocs without the proof!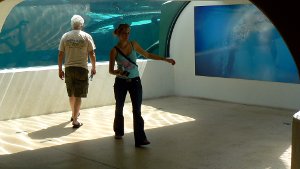 Viewing crocodiles
If you don't fancy getting your feet wet, there are good underwater views provided by the huge viewing windows built into the crocodile pens and fish tanks.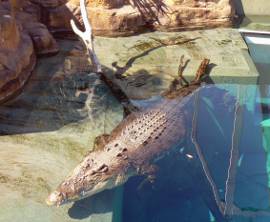 "Snowy" the Albino Crocodile
"Snowy" is a unique white crocodile which first lived on the Darwin Crocodile Farm but now resides in urban luxury at Crocosaurus Park

UPDATE; Snowy is no longer with us, having died in February 2010 at an estimated age of around 80 years.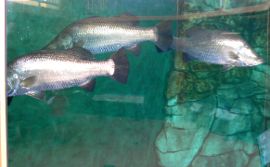 View swimming Barramundi
These barramundi are part of a giant aquarium with 15 other species of freshwater fish and turtles.

Check the daily schedule to see when divers are hand feeding these massive metre long fish.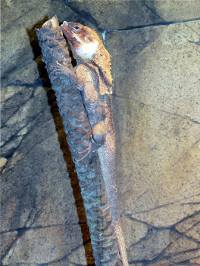 Frill necked lizard
Don't forget to spend some time with the smaller reptiles, goannas, lizards, pythons and some of the world's most venomous snakes.


Crocosaurus Cove is located at
58 Mitchell St., right in the heart of Darwin CBD.
Tel: 61 8 8981 7522
Email: info@crocosauruscove.com
---
More Crocodile Tours and Information

Return from Australian Crocodiles to Enjoy Darwin.
---