Daly River Caravan Parks
Several Daly River caravan parks offer caravan sites, cabin accommodation, modern facilities with 24 hr power and easy access to fishing pontoons, boats and barramundi fishing.
Good bitumen roads from either Darwin or Katherine make the Daly an easy drive for caravans and motorhomes.

Add to this first class facilities, lots of open space and weather most people only dream about.

The result is an increasingly popular destination.
Banyan Farm Tourist Park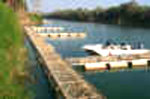 Banyan Farm Pontoon
Banyan Farm is a spacious, lawned and shady tourist park on the banks of the Daly River.
It has been the preferred location for the Barra Nationals since 1998 and the Barra Classic since 2000.
Excellent Mooring Pontoons, your boat is safely secured.

Banyan Farm river pontoonsAccommodation ranges from bungalows to shady powered and unpowered sites.
A communal kitchen and dining area provides gas barbeques, gas rings and generous refrigeration space with ample seating and table space for all to enjoy.
The Park has a clean and well appointed ablutions area. Facilities include flushing toilets, hot water, showers, wash basins and mirrors.
There's plenty for kids, including a relaxing swimming pool, a maze and play equipment with an adjacent shaded area. The kids will love the horses, peacocks and local wallaby family.
Woolianna Road,
phone (08) 89782461
Daly River Barra Resort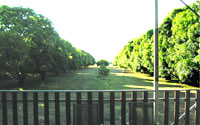 Barra Resort mango trees
Located on the banks of the Daly River amongst 30 year old Mango Trees.

Both powered and unpowered van and camping sites are spread among the mango trees, with plenty of room.

Barra Resort mango treesPower and Water are available and modern amenities buildings with plenty of hot water.Free Gas BBQ's and a Camp kitchen make cooking easy.
Accommodation options include air-conditioned self contained cabins with own bathroom, separate bedroom and kitchenette with pots, pans, crockery, cutlery, glassware and utensils, an electric hotplate and Microwave. A large 182ltr fridge/freezer will keep your food and drinks icy cold.
Sleeping arrangements include a double bed, twin single beds and a pullout double sofa bed. Bed linen and towels are provided.
There is also an undercover shaded Saltwater swimming pool and spa to keep the children entertained for hours.
Woolianna Rd
ph (08) 8978 1193
Daly River Mango Farm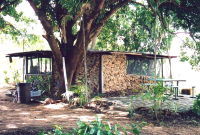 Mango farm stone cabin
One of the biggest Daly River caravan parks with plenty of shade and room.

Accommodation ranges through unpowered camping sites adjacent to the billabong, powered sites, single cabins and 2 bedrom units to a 3 bedroom fully furnished house.

Mango farm stone cabin
All accommodation units have 24 hour mains power, TV and Telstra CDMA reception.
The kiosk provides all basic needs, from milk, bread and ice to fishing supplies and snacks. Maps of the local area, bushwalks etc are also available free of charge.
SETTLER'S BAR AND BISTRO The fully licensed and air conditioned Settler's Bar and Bistro is open Wednesday, Friday and Saturday nights.
Relax in the in-ground pool after a day's fishing, bird watching or bushwalking.
LAUNDRY, SHOWERS AND TOILETS Showers with hot water and toilets (with access for disabled guests). A coin operated laundry is available on-site.
A Telstra Public Phone centrally located on-site lets you contact the outside world. Telstra CDMA/Next G mobile are available.
Because of proximity to the Nauiyu Community, 4 TV channels are available - ABC, SBS, Imparja and 7 Central.
BOAT RAMP AND PONTOONS Concrete boat ramp is available free to all guests.
Alternatively guests can dock at our pontoons. A small fee applies for day users.
Phone (08) 89782464
Daly River Roadhouse
Motel rooms are available at the roadhouse, along with powered caravan sites and a general camping area without power.
A fishermans hut provides basic facilities, and the roadhouse can provide fishing charters on the river.
phone (08) 8978 2418
Perry's on the Daly
Limited rooms available in the homestead.
Shady camping and caravan sites, serviced tents, limited powered and unpowered sites.
BBQ facilities, fishing tackle, dinghy hire, marine and gift shop, fishing rod and reel repair and hire service, ice, gas, boat ramp, bush walks, amenities shed (pool, chess, darts, draughts, etc.)
Lot 26 and 32Mayo Park
Ph 08 89782452
Woolianna on the Daly Tourist Park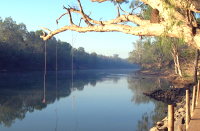 Daly River at Woolianna
The futherest from the Daly River crossing of all the Daly River caravan parks, Woolianna is as far down the Daly as road access will allow.

This is close to some of the best barramundi hot spots in the Northern Territory.

Daly River at Woolianna
Set amongst shady mango trees,a fishermans lodge has 2 units, one with 2 bedrooms, the larger one with 8 beds.
Lawned and shaded camping and van sites, powered sites having 24 hour power available.
Large shaded swimming pool, a small shop that sells ice-cream, boat fuel, cool drinks, ice, frozen mangoes, nibblies, and souvenirs.
For the fisherman there is a boat ramp, boat hire and guided fishing trips.
Woolianna Road
Phone (08) 8978 2478
Daly River Nature Park (Nancar Hideout)
This park is a private property situated on the Eastern bank of the Daly River 6 kilometers upstream of the Daly River crossing.
The property is bounded on three sides by the Mount Nancar Conservation Zone that covers approximately 100 square kilometers.
The track into the park is not suitable for caravans, off road rigs only.
Daly River Nature Park has a strictly no pets and an adults only policy.
Quality clean ablutions with unlimited hot and cold water, drinking water and spacious shaded camping sites. Camp fires are welcome and ample firewood is available.
A boat mooring pontoon is available for use by guests.
Bookings are essential as the park is limited to 20 guests.
Daly River Nature Park

phone 0427 014 714
email info@dalyrivernaturepark.com.au
---
Darwin Caravan Parks

Litchfield Park caravan parks & accommodation

Click here to return to Home from Daly River Caravan Parks
---