Darwin Weekly Dances
Since March 2020 life as we know it has changed forever due to the infectious, deadly coronavirus COVID-19
Darwin is currently fighting to prevent the spread of this disease with almost every aspect of normal life affected.
As governments everywhere restrict everything from international travel to any local activities which allow the virus to spread,  only essential and necessary activities are permitted.
To read the latest information see the Secure NT website
Darwin Weekly Dances for a variety of dance styles including ballroom dancing, line dancing, salsa, latin etc and lessons in many dance styles.
Social dancing is great fun, keeps you fit and healthy,
so come along and join in.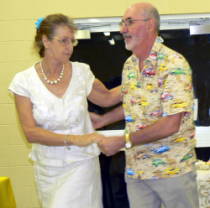 Bill and Cindy
Regular Weekly Dances by Dance Type

Let us know if your group has a weekly dance.
Ballroom Dancing
Belly Dancing
Latin - Cha Cha, Rumba, Tango etc
Line Dancing
Rock & Roll
Salsa Dancing
Scottish Dancing
Scottish Country Dance Society
Swing
This information on Darwin Weekly Dances is provided as a community service and may contain errors, especially as smaller events may be changed without much notice. Please check information with the organizers close to the date.
Click here for the Darwin Dance Directory
Click here for a list of active dance clubs and groups.


---
Return from Darwin Weekly Dances to Enjoy Darwin Home.
---