Darwin Drag Racing
Darwin Drag Racing at the Hidden Valley Motor Sports complex now has an international standard racing surface and facilities for an Australian national racing calendar.
Located near Berrimah at Hidden Valley Road, about 12k's from the Darwin CBD and about 10 minutes from the airport.
Hidden Valley contact details:
Venue Management Office (BH): 
Ph 08 8947 1471, 
Fax: 08 8947 1472
Caretaker (AH): Ph 08 8947 0012
The Darwin racing scene is supported by many volunteers who show their enthusiasm for the sport in a practical way by helping with their own time and expertise.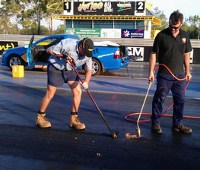 Racetrack volunteers at work
The Hidden Valley Drag Strip is run by the non-profit
Hidden Valley Drag Racing Association
GPO Box 3726,
Darwin, NT. 0801
Phone: (08) 89471320

Being an official at Hidden Valley Drag Strip is the closest you can get to the action. Volunteers play a vital part in drag racing, without them we wouldn't be able to go racing. Its fast paced and an exciting rush to know you are part of the sport of drag racing at Hidden Valley Drag Strip.
Free entry, free food and drinks, and officials prize draws.
Become part of our volunteer team for the 2012 season and help make the action.
A major upgrade included:
Resurfacing the track to an international standard 
Upgrade safety barriers to concrete for top class competition vehicles
New burnout pad Install timing boards at the end of the track 
Upgrade and tier the spectator mound for better safety and viewing areas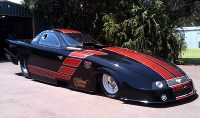 Top Alcohol Funny Car 2012
Calendar 2019
Test and Tune
Beat The Heat
Street Meet

Track Championship Round 1 

Beat The Heat

Friday Night Street Meet 
Top End Turbo Fest -
Track Championship Round 2

Beat The Heat
Friday Night Street Meet

Track Championship
Round 3

Nitro Up North 
Featuring Aeroflow Outlaw Nitro Funny Cars
Track Championship
Round 4

Summit Racing Sportmans Series 
Round 2
Track Championship
Round 5
Track Championship
Round 6 
Beat The Heat
Friday Night Street Meet

NT Titles 
Track Championship
Round 7 
Alice Springs Inland Dragway

Check the Darwin 2019 Calendar for more Festivals and Events
---
Return from Darwin Drag Racing to Enjoy Darwin Home.

---