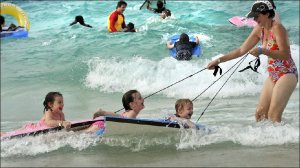 Enjoying the Darwin Wave Lagoon surf.
A great place to spend a day, the wave pool is popular with locals and tourists alike 


With plenty of food and icecream available nearby, it's easy to spend time in the pool or enjoying the sun on the grass.

Wristband tickets allow surfers to leave and re-enter the pool throughout the day.
The pool is open every day of the week from 10am to 6pm.
CLOSED XMAS DAY
Any questions? Contact the Life Guard Office on 8941 7260
The artificial waves can be up to 1.7m high and come in a variety of styles. You can test your skills on the boogie wave, the diamond pattern, the double diamond, the parallel, half-parallel, break left, break right, vee in or vee out.
A limited number of boogie boards and water tubes are available free to use as part of the entrance fee. Personal boogie boards and tubes are allowed into the Lagoon at the discretion of Surf Life Saving NT, eg boards with fins or tyre tubes with large valves will not be allowed in. No surf boards allowed.
Eskies are welcome but no alcohol or glass. No BBQs 
Annual Passes for the wave pool are available at $50 for Adults, $35 for kids and seniors concessions at $20 
For more information, contact Darwin Waterfront Corp. on 8999 5155.
The pool is located a short walk from the main bus terminal in Smith St. and there is a paid car park in Kitchener Drive if you are driving.
Access to the recreation man made lagoon and beach
next to the wave pool is free.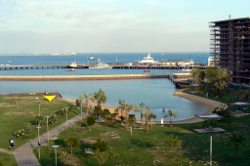 Darwin Port man-made beach
The waterfront is also the scene of many different activities through the year, such as the the Harmony Soiree, School holiday programs and annual Xmas & New Years Eve programs.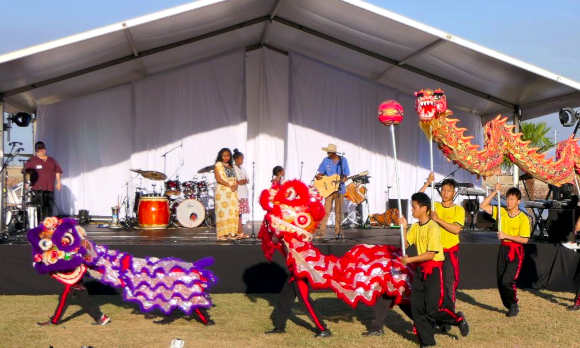 Chinese Dragons at the annual Harmony Soiree festival