Since March 2020 life as we know it has changed forever due to the coronavirus COVID-19

Local businesses are adjusting to the 'New Normal', please check with the advertised contact for any updates or changes to an advertised service.
Down Syndrome NT
by Rachel
(Darwin)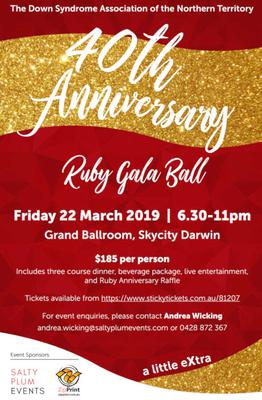 Ruby Ball
2019 marks a significant milestone for the Down Syndrome Association of the Northern Territory (DSANT), having provided 40 years of support and services to all Territorians with Down syndrome, our members and their families, and the provision of information and support for employers and our key stakeholders (schools, multicultural organisations).

To celebrate the spirit and strength of our organisation, we are hosting a 40th Anniversary Ruby Gala Ball on Friday, 22 March 2019 at Skycity Darwin, a night not to be missed. The 40th Anniversary Dinner will be a celebration of our Members and families and an opportunity to showcase the Association's work and raise funds. The 40th anniversary celebrations will continue throughout the year with a Family Fun Day for all in October.

The Down Syndrome Association NT has enjoyed the support of many local business partners since its inception. As a proud local business, we seek your support to continue our work in the community.

A quality start in education is key to improving an individual's life chances, and employment is a key element towards independence for people with Down syndrome.
The Down Syndrome Association NT plans to launch and develop a program that focuses on Reading to Speak in 2019. Not only for our children and adults with Down syndrome, but also for those parents for whom English may be their second or third language. Sharing the gift of reading will structure the building blocks of speech therapy.

Key reasons for you to sponsor this year's Annual Gala Dinner:
• Raise funds for the Reading to Speak program;
• Support the Association in its important work to continue to offer support for people with Down syndrome in the Northern Territory and their families;
• Assist with the building of resources in the Northern Territory;
• Ability to leverage the event's marketing campaign to promote your organisation; and
• Opportunity to associate your business with a positive and unique community project and event.
There are several exciting opportunities for you to support the Association for the 40th Anniversary Gala Dinner . I welcome your support and the opportunity to discuss these with you further. Please feel free to call me direct on 8985 6222.
Thank you for your time and I look forward to hearing from you.

Rachel Kroes
Executive Officer
Down Syndrome Association NT
PO Box 41545
Casuarina NT, 0811
Email: rachel@downsyndroment.com.au

Join in and write your own page! It's easy to do. How? Simply click here to return to Darwin 2019 Calendar.