Since March 2020 life as we know it has changed forever due to the coronavirus COVID-19

Local businesses are adjusting to the 'New Normal', please check with the advertised contact for any updates or changes to an advertised service.
MFK Academy of Irish Dance NT
by Tina Richardson
(Palmerston, NT, Australia )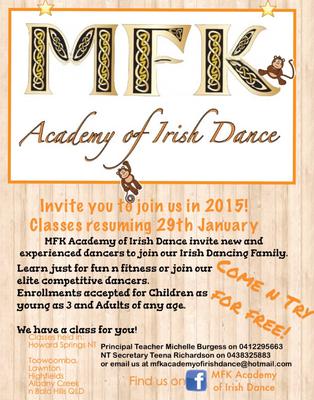 Learn to dance today to fulfill your dreams of tomorrow!
This event has no 2023 dates available for booking. Please contact the organiser directly with any queries.


Now taking Enrollments for 2015!

Learn to Irish Dance for fun, fitness or competition with our friendly and professional staff here at MFK Academy of Irish Dance NT who have also spent many years dancing and successfully competing throughout Australia as Irish Dancers.
Our caring assistant teachers add extra value to each class.
In addition, we are the only NT based Irish Dance School that have permission to teach Irish Dancing by the An Comisiun Le Rinci Gaelacha Dublin Ireland.

Classes are conducted to coincide with Northern Territory government school terms and are suitable for children as young as 3 to Adults of any age or dance experience.
We hold regular workshops throughout the year with our Principal Teacher and Owner Michelle Burgess. Private lessons are also available.

Classes are currently held at Howard Hall, Howard Springs. This is a great location and has a sprung wooden floor ideal for dancing.

Thursday 6:30-8pm Intermediate and Open Dancers
Saturday 2:00-3:00pm Beginner Dancers
3:00-5:30pm Intermediate and Open Dancers

Come along and have a free try and meet our wonderful team.

Need more information? Please don't hesitate to contact us

NB All our staff have been issued with a Working with Children Clearance Notice and carry current NT Ochre Cards.