Since March 2020 life as we know it has changed forever due to the deadly coronavirus COVID-19
To read the latest information see the Secure NT website and NT Steps to the New Normal 
Local businesses are adjusting to the 'New Normal', please check with the advertised  contact for any updates or changes to an advertised service.
Nightclff Community Enterprises
Nightclff Community Enterprises

(Nightcliff)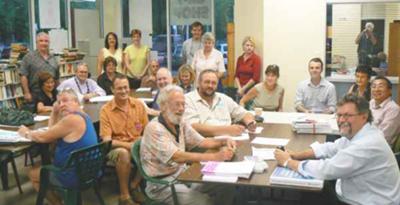 Nightcliff community meeting
Nightcliff Community Enterprises, in partnership with Bendigo Bank, is a locally owned company which was set up to provide local banking services in Nightcliff, Coconut Grove and Rapid Creek, with services extending to all Darwin suburbs.
2010 Annual General Meeting
The Board invites shareholders and the public to attend the NCEL AGM to be held on 1st November 2010 at 6:30pm at the Nightcliff Sports Club.
Owned by local shareholders and with a board of local volunteer directors, Nightcliff Community Enterprises Ltd. has a charter to return 80% of it's profits to the local community.
After the NAB closed their branch in Nightcliff, a steering committee of concerned locals began promoting the concept of providing a local bank using the
Community Bank®
model.
The first
Community Bank®
was set up to provide banking services in Rupanyup and Minyip in Victoria after those towns found themselves in similar circumstances, with no local bank branches. Since the first Community Bank® opened, more than 265 local communities have partnered with Bendigo Bank to open local banks around Australia.
In the Northern Territory there are also
Community Banks®
at Alice Springs, Katherine and Coolalinga, and a Bendigo Bank corporate branch in Smith St. Darwin.
Nightcliff Community Bank®
was
opened by Austin Ashe
on the 24th September 2008 as a result of local community support.
The
Nightcliff Bank
provides all the facilities expected of a modern bank with the full support and expertise of Bendigo Bank.
Support your Community Bank®
.
Contact:
Jeff Watson
Branch Manager,
Bendigo Bank,
40 Progress Drive
Nightcliff
ph 8948 4485