Nightcliff Bank Opens
The new Nightcliff Bank Opens to serve the Nightcliff, Coconut Grove, Rapid Creek area, with local community ownership and a plan to return a percentage of bank profits to the local community.
Update 2009 Nightcliff Bank celebrates 1 year with community donations.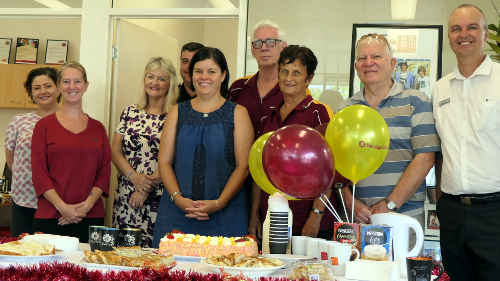 Update 2017:

Staff, board members and local community members celebrate the Branch's 9th Birthday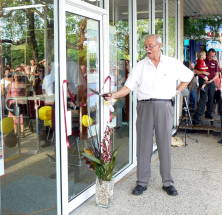 Austin Asche cuts the ribbon to open the Nightcliff Community Bank
New Bank Opens
24th of September 2008.
The newest bank in Darwin is open for business.

The Nightcliff Community Bank. was officially opened by Austin Asche.

Local people and businesses now have a convenient location for all their banking.

This location will provide banking services to a wide area which had no banking services other than ATM's.

The share offer for this Community Bank® was fully subscribed on 30th October and is now closed.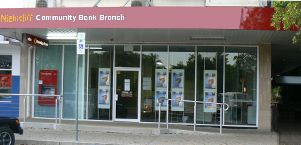 Click here for more information on Community Banks.
Support your Community Bank

Contact: Branch Manager,
Nightcliff Community Bank
40 Progress Drive
Nightcliff
ph 8948 4485
Mon-Fri 9.30 - 5.00

Thanks go to The Good Luck Shop and Trevor Tschirpig Conveyancing Services for helping with the administration of the prospectus.
View Larger Map
Trevor Tschirpig
Conveyancing Services
1/13 Travers St,
Coconut Grove
ph 8948 4600
The Good Luck Shop
Shop 1/3 Parap Place,
Parap NT 0820 ...
0432 012 544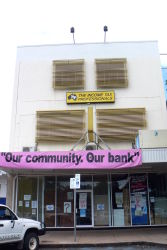 Waiting for renovations

The Nightcliff Community Bank joins Alice Springs, Katherine and Coolalinga and many other communities throughout Australia which have embraced the Bendigo Bank Community Bank concept.


Although it started slowly, the support of local people has led to the development of this local bank. You can read about the development stages here.
The prospectus was officially launched on 19th March as planned and is now fully subscribed and closed.

Shares in Nightcliff Community Enterprises Limited, the public company formed by our community, may become available from time to time. Check at the bank for current availability.
Northern Territory Community Banks
---
Click here to return Home from Nightcliff Bank Opens
---