Nightcliff Street Names
Nightcliff Street Names are nearly all taken from the names of common plants, and while the name Nightcliff first appears on Goyder's 1869 plan of Port Darwin. it's exact origins are not clear.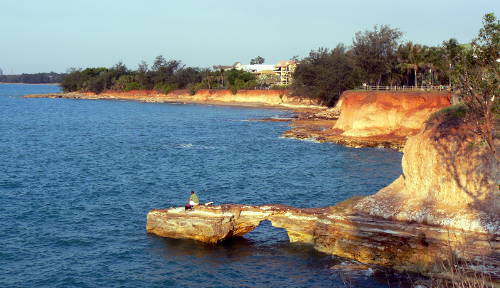 Red sandstone cliffs at Nightcliff
The name possibly comes from a night time landing at the site by a party from HMS Beagle on 8 September 1839. A party in a longboat came ashore, including Lieutenant John Stokes who later wrote "We had some difficulty in landing, and then in scrambling up the cliffs by the light of a lantern."
Evening at Nightcliff Bike Track along Casuarina Drive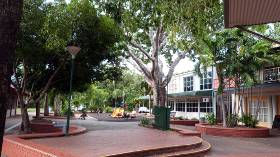 Pavonia Way aka Nightcliff Mall
The original commercial heart of Nightcliff, through the week Pavonia Place is a quiet place, with a children's playground at one end and the Groove Cafe outdoor tables at the Progress Drive end.
On a Sunday morning this is "standing room only" territory as crowds come to the Markets to browse through art and craft stalls, and buy some locally grown produce.
Nightcliff Street Names and their origins.

Alstonia, also known as Milkwood, is common across the coastal areas of the Territory in open forests or the margins of rain forests.
Aralias are a group of easily grown evergreen shrubs.
Derived from the Latin name of a variety of grass introduced into the southern NT. There are many varieties, including the cereal oats.
Another grass - bamboo is a giant tropical grass.
Banksia is a genus of around 170 species in the plant family Proteaceae. Named after botanist Sir Joseph Banks
There are about 200 varieties of Bauhinia, many are grown as orchid trees because of their spectacular coloured flowers.
A popular flowering plant in Darwin which also lent its name to the Darwin Bouganvillia Festival, in the 70's

Camphor is a chemical which is produced by several species of trees. The Camphor Tree, Cinnamomum camphora, was introduced to Australia in 1822 as an ornamental tree.
Casuarina Equisetifolia is a native Australian Tree, also known as Beach Sheok or Whistling Pine.
Australian Red Cedar is one of Australia's few deciduous trees, with a highly prized red wood.
Most clematis plants are woody climbing plants with a variety of flower shapes ansd sizes.
The Coolibah Tree is a good choice when you are looking for shade to boil your billy. It has a wide, dense canopy and usually grows in areas with seasonal flooding.
The genus Cordia contains about 300 species of shrubs and trees. Many have fragrant, showy flowers and make good garden trees.
In Australia Cunjevoi is used as a name for two plants (Native Lily and Giant Taro) and an animal, the sea squirt which was a common food source for the local Aboriginal people.
Cypress Pine is the common name used for three trees in the cypress family Cupressaceae: Callitris (Australia); Actinostrobus (Australia) and Widdringtonia (Southern Africa)
Ebony wood is prized for its dense, black texture and often used in decorative or ornamental features.
Eugenia reinwardtiana has a small edible fruit and is native to tropical Australia, Indonesia and the Pacific Islands.
Named after the Northern Territory tree fern.
A common tree around Darwin, with white, pink or orange flowers .


View Darwin Northern Suburbs in a larger map
---
More information on Nightcliff
Return to Darwin Australia Suburbs and Localities
Return from Nightcliff Street Names to Enjoy Darwin Home
---