Palmerston Shopping District

The Palmerston Shopping District includes several separate retail centres with stage one of the Gateway Shopping Centre an indication of the growing population in the area. Building of more retail spaces is ongoing and the shopping landscape will no doubt continue to change in the future.

Bakewell Shops

A large Woolworths Supermarket is the anchor store for these shops on the corner of Chung Wah Terrace  and Lambrick Avenue in Bakewell.
With around a dozen external shops, a petrol station and drive through takeaway, this centre is a bit different from the totally enclosed and air-conditioned shopping malls in other places.
Gateway Shopping Centre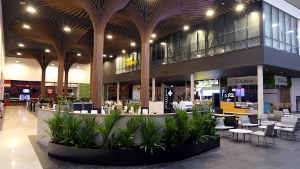 Inside Gateway Shopping Centre
Woolworths and Big W provide the anchor stores for stage 1 of the new Gateway Shopping Centre which opened in September 2017.
An additional 75 specialty shops and food stores, an Event Cinema and a fitness centre make this the biggest shopping centre in the Palmerston area.
Palmerston Shopping Centre
Target and Coles stores at either end of this single lane centre provide the anchor stores, with a central area set as an eatery.
Half a dozen coffee shops and take away food outlets service customers who have around 30 or so specialty shops to browse through along the arcade.
Limited under cover parking is provided underneath the shops with more parking around the perimeter.

Located near the water tower on the corner of Chung Wah Terrace and Temple Terrace and next to the Palmerston bus exchange 

Details on Palmerston Shopping Centre here.
Oasis Shopping Village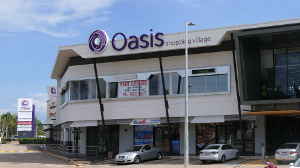 Oasis Village, Palmerston
This is a smaller shopping centre located on the opposite corner of Temple Tce and Chung Wah Tce with access from either road.
Coles supermarket has now opened in this centre after a new fitout in 2017. 
Some under cover parking is available in the parking areas around the village, 
Details on Oasis Shopping Village here.
Palmerston Business Directory
This directory covers the whole Palmerston business area.
Pages listed here will be linked with individual pages for Oasis Shopping Village, Palmerston Shopping Centre, Gateway Shopping Centre and other main retail centres in the area.
Palmerston Business Directory
Click the headlines below for more information...
 Oasis Shopping Village in Palmerston
More Retail Centres
Coolalinga Shopping 

Darwin Retail Shopping Centres

---
---