Portrait of a Senior Territorian Art Award
Since March 2020 life as we know it has changed due to COVID-19

For the latest information see the  Secure NT website   and   NT Steps to the New Normal 
Local businesses are adjusting to the 'New Normal', please check with the advertised contact for any updates or changes to an advertised service.

The Portrait of a Senior Territorian Art Award recognises outstanding Northern Territory artists and celebrates the significant achievements and contributions by Senior Territorians to our community.
Catherine Miles is the 2019 winner with her portrait "Paul and Elma"  depicting Paul Patteson and his seeing eye dog Elma
Dr Al Strangeways won the 2018 Award with her portrait titled Hills: Kathleen Wallace and the Dancers.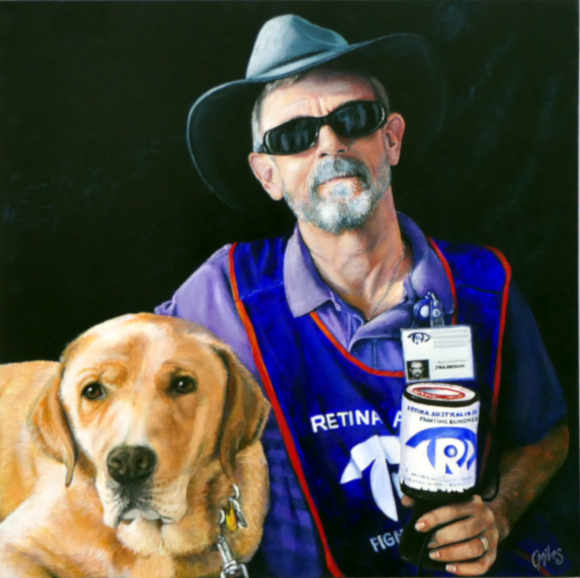 Catherine Miles won the 2019 Portrait of a Senior Territorian art competition with 'Paul and Elma"
Artist's Statement: Catherine Miles
Catherine Miles is an award winning artist who's an active member of Darwin's art community. Catherine wanted to paint paul and his assistance dog Elma to shine a lighton the issue of Choroidaremia while indulging her love of pet portraiture.

Paul is pictured surrounded by smoky darkness - his livingreality, while his working companion sits patiently at his side.
They tirelessly work collecting for Retina Australia at shopping centres across Darwin. Hopefully our donations might help Retina Australia find a way for Paul to see this picture one day.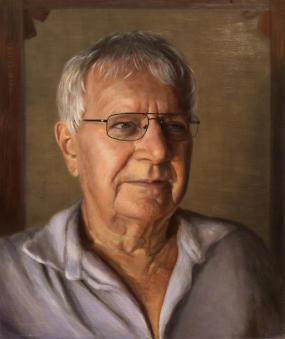 Ms Katalin Hörömpó was awarded second prize.
Ms Katalin Hörömpó was awarded second prize in 2018 for her portrait of Mr Gary Single titled Verso

Gaye Coyne was awarded third prize in 2018  for her portrait Russell Totham out Fishing and Camping with Spot, 
Peter John Turner Judges Commendation 2018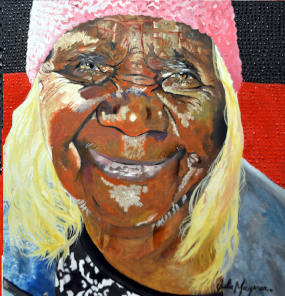 Judges Commendation Julia Mayman 2018
The judges' criteria included technical expertise, originality, effectiveness in capturing the personality of the subject, effectiveness in capturing the Territory's identity, culture and history, contribution to the legacy of NT art and the Portrait of a Senior Territorian, as well as their personal response to the work.
See some of the winners from previous years here.
---
Return to Darwin Art Galleries
Return from Portrait of a Senior Territorian to Enjoy Darwin Home
---