Since March 2020 life as we know it has changed forever due to the coronavirus COVID-19

Local businesses are adjusting to the 'New Normal', please check with the advertised contact for any updates or changes to an advertised service.
Quality Advance Apartments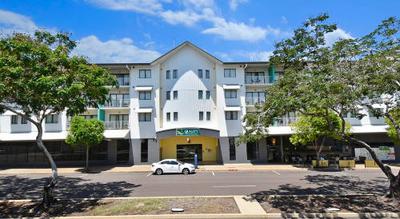 55 Cavenagh St
Quality Advance Apartments we pride ourselves on providing exceptional customer service so you can enjoy your stay in Darwin.

Are you planning a holiday adventure in Darwin? Or staying for a few days or weeks or business meetings or contract work? You'll find it hard to match the personalised and professional accommodation services that we can provide during your stay in one of our Darwin fully serviced apartments.

With a wide range of modern, spacious apartments with Wifi, kitchen, living and study areas, there's an option to suit your needs. The apartments are conveniently located in the heart of the city, so whether you're visiting Darwin for business, pleasure or both, you'll easily and quickly be able to get around. Or you can just relax back at our pool and bbq area.

Our friendly staff are here to help with tips and advice about our beautiful city, or efficiently arrange a variety of tasks to help make your stay a comfortable one. From valet parking, dry cleaning, shopping service, tour bookings, baby sitting services and more. Visit our distinctive range of fully serviced apartments which offer air conditioned living spaces, kitchen facilities, NBN broadband and Wifi access. On-site reception and managers are available 24/7 to make your stay a relaxing and enjoyable one.

Address: 55 Cavenagh St, Darwin NT 0800
Phone:(08) 8982 3100
Join in and write your own page! It's easy to do. How? Simply click here to return to Darwin CBD Business Directory.