Darwin Business Directory
Darwin Business Directory
The Darwin Business Directory contains businesses located in the general CBD area, centre of business, government and tourism in the Northern Territory.
Add Your Business Information here
Commercial Bank Building circa 1978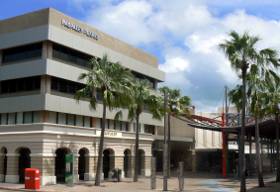 Bennett St end of Smith St Mall, pre2014.
Paspaley Pearls is one well known Darwin company which displays it's locally harvested pearls alongside Di Crocco and their luxurious crocodile skin handbags and wallets.
Walk from the Mall to the Harbour via the skywalk and glass lifts.
While hotels, apartments and office blocks dominate the skyline, nearby harbour developments and an active tourist industry provides a variety of opportunities for business in the CBD area. And of course it is also the centre of entertainment and art for the greater Darwin area.
With billions of dollars of investment in LNG due in the next few years, it seems the growth of the city is sure to continue.
More information on Darwin CBD
Quick facts for Darwin Australia
Darwin CBD Business Directory
This directory covers the Darwin City CBD from the Daly Street bridge to Tipperary Waters on Frances Bay in the East across to Cullen Bay and Mindil Beach in the West.
Any business located within the area is welcome to add a page of information to this directory. For other areas, find the best directory for your location here.

Darwin CBD Business Directory
Click below to see more information ....
---
Click here to return from Darwin Business Directory to Enjoy Darwin home.
---