Rix Kix Arts
by Kristy Rickert
(Darwin, NT, AUS)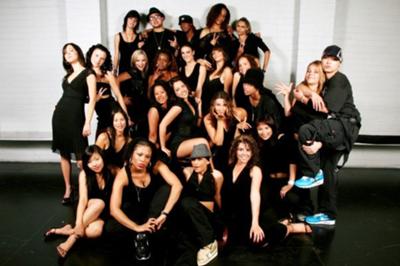 Rix KIx Arts
This event has no 2023 dates listed. Please contact the organiser directly with any queries.


Rix Kix Arts

Providing a choice of dance/exercise classes for fun and fitness;
Zumba
Children/Teen Adult Dance Class
Adult Dance Performance Class
Stretch/Pilates Class
Boxcercise

There is an exciting promotion happening for RIX KIX ARTS DANCE LESSONS...

Register in term 4 and receive $10 children classes for 2011.

Don't Miss Out!!!


RIX KIX ARTS DANCE is launching a range of dance classes for children from the age of 3 to adults!
The brand new venue for this studio will be at the CDU Sports Complex, Casuarina.


CDU SPORT is located in Building Green 2, Casuarina Campus, corner of Dripstone Road and Lakeside Drive.

Bayside Dance Centre
11 Keith Lane, FANNIE BAY
Located above Fannie Bay Shopping Centre

Classes are beginning up again for the year 2011 on the 14th of May!
Don't Miss Out!


TIMETABLE
SATURDAYS
@ CDU FITNESS UNLIMITED
10.45-11.15 am TWINKLE LITTLE STARS
2-4 YEARS Creative Dance
11.15-11.45 am RAINBOWS
Under 9's Creative/Ballet/Jazz
11.45-12.30 am STORM DANCERS
Under 14's Hip Hop and Jazz
12.30-1.15 pm SHOOTING STARS
GLEE CLUB: Dancing/Singing/Acting
WEDNESDAYS
@ BAYSIDE DANCE CENTRE
7.00-8.00 pm RIX KIX TROOP OPEN
Intermediate/Advanced Hip Hop/Lyrical Jazz
8.00-8.30 pm RIX KIX PERFORMANCE TROOP
Rehearsals, Technique & Stretch
THURSDAYS
@ BAYSIDE DANCE CENTRE
5.30-7.00 pm RIX KIX PERFORMANCE TROOP
Open Ballet/Contemporary/Stretch
Tuition
Registration- $10
Casual Class- $15
cash only
Contact;
Rix Kix Arts
danceforeva@hotmail.com
0400 488 294
Kristy Rickert
Bachelor of Arts Dance
Graduate Diploma of Education
Certificate IV in Performing Arts
Certificate III in Group Fitness
Zumba Instructor
First Aid
Ochres Card
CLASS DESCRIPTIONS
ZUMBA
The Zumba program fuses hypnotic Latin rhythms and easy-to-follow moves to create a one-of-a-kind fitness program that will blow you away. Zumba combines Latin and international music in dance routines featuring aerobic and fitness interval training done to a combination of fast and slow rhythms. You can achieve long-term benefits while experiencing an absolute blast in one exciting 45 minutes of calorie-burning, body-energizing, awe-inspiring movements meant to engage and captivate for life!
CHILDREN/TEEN ADULT DANCE CLASSES
Dance lessons are designed to develop physical strength, fitness and flexibility with an emphasis on enjoyment and a love of music of dance. Students are safely instructed by professional dance teacher Kristy Rickert to develop the stamina, endurance and graceful movement for a future in dance or simply as a means for overall fitness. Classes are a place for boys and girls, children and adults of all levels to explore and enjoy a diverse culture of dance styles, music and technique.
ADULT DANCE PERFORMANCE CLASS
This adult hip hop class blends the true foundations of different styles of hip-hop, jazz, modern and more, with a hint of a cardio workout. Also it adds a carefree party like atmosphere so that all newcomers to the class can feel comfortable. Although it is geared for intermediate/advanced levels, this is an open class so everyone is welcomed no matter the level or age.
The class starts off with a strength and style building warm up, moving into a different dance routine every 2nd week. Expect a fresh style and a variety between smooth, lyrical routines to sharp, hard-hitting choreography. A friendly and positive energy where you will sweat and you will get sore, but you won't notice it until the end of class. (It's a common phenomenon when you're having that much fun! ;-)). So come in, be inspired, get an awesome workout and learn some cool moves!
STRETCH/PILATES CLASS
Stretch and strength classes prove beneficial in reducing stress, improving posture, strengthening the muscles. They also help in improving the flexibility of the body thus enhancing the range of motion of all body parts. They also help in increasing the core strength body and also work towards mental balance.
Some benefits of BEING ACTIVE are as given below:
* Decrease in overall stress levels and muscle spasms
* Strengthening of muscles
* Increase in flexibility of the body and the range of motion of body parts
* Improves balance, co-ordination of mind and body.
* Improves overall health of mind and body
* Improves circulation in the body and overall performance levels
* It also help in reducing the pain in joints and muscles
* Decrease risk of coronary heart diseases and helps fight cholesterol
* Increase in the basal metabolic rate
Kristy Rickert
danceforeva@hotmail.com
0400 488 294