Since March 2020 life as we know it has changed forever due to the coronavirus COVID-19

Local businesses are adjusting to the 'New Normal', please check with the advertised contact for any updates or changes to an advertised service.
Rural "Road Trip" Pub Crawl
by Darwin Pub Crawls
(Darwin)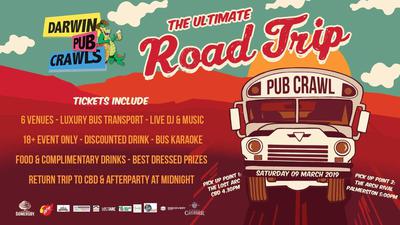 'Road Tripin' CITY to THE COUNTRY!!
Darwin Pub Crawl Presents
🍺ULTIMATE ROAD TRIP PUB CRAWL!🚌
🚌Return Luxury Bus Transfers
🌏5 Rural Pubs + 2 CBD Venues
👣 = 7 Venues
🔥18+ Fun Games
🤠Best Dressed Country Wear
🎤Bus Karaoke
🍔Food Included & Available for Purchase
🥃Complimentary Drink On Arrival
🎟Free Entry EVERYWHERE
🎧DJs & Live Music🎸
🥇1500 worth of Prizes & Giveaways🥈🥉
🎯Free Pool and Darts🎱


Phone 0449 751 986,
Mail: info@darwinpubcrawls.com.au

Darwin Pub Crawls PTY LTD
ABN 43617304140
Join in and write your own page! It's easy to do. How? Simply click here to return to Darwin 2019 Calendar.