Since March 2020 life as we know it has changed forever due to the coronavirus COVID-19

Local businesses are adjusting to the 'New Normal', please check with the advertised contact for any updates or changes to an advertised service.
Snake Handling Courses
by Snake Man
(Darwin)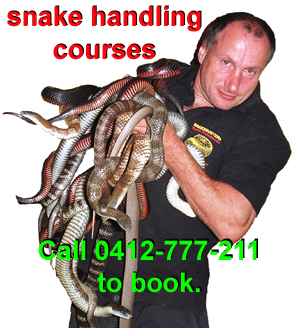 Darwin Snake handling Courses
We do Australia's best snake handling courses and snake catching course training in all parts of the NT and the rest of Australia.

We also do other reptile awareness education course training for mining companies, construction workers and other outdoor personnel.

Details are on our website at www.snakehandlingcourses.com.au
Join in and write your own page! It's easy to do. How? Simply click here to return to Darwin CBD Business Directory.