Tropical Garden Spectacular
Since March 2020 life as we know it has changed forever due to the coronavirus COVID-19
To read the latest information see the Secure NT website  and  NT Steps to the New Normal 
Local businesses are adjusting to the 'New Normal', please check with the advertised contact for any updates or changes to an advertised service.
Tropical Garden Spectacular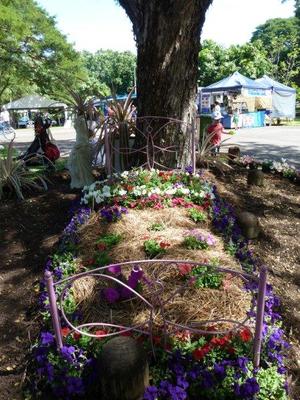 The Tropical Garden Spectacular is held on the first weekend in June every year.
This year the event will be on the 30th & 31st May 2015 at its traditional home, the George Brown Darwin Botanic Gardens.

This years theme Garden Party will enhance the relaxing, inspirational, informative and entertaining weekend. We will be hosting the Biggest Morning Tea, Tree Climbing Championships, Landscape Olympics, Wise Water Use workshops and a multitude of other activities for all ages.

Enjoy delicious local food from the Community Gardens Cafe or one of our many local food vans. Refresh and hydrate with free water, fresh juices or a visit to the Garden Bar.

Visit the stalls and displays of the many local businesses and organisations who exhibit at the event, purchase high quality locally grown plants, join a garden club, find out about the latest fertiliser, learn to identify pests and weeds, or just stroll around in the wonderful ambience of the Botanic Gardens enjoying the music, smells, tastes and sights.
Join in and write your own page! It's easy to do. How? Simply click here to return to Darwin 2015 Calendar.