What a welcome home after my wedding .....
by Barb Perryman (nee Atkinson)
(Melbourne)
I moved to Darwin in Jun 71, having celebrated my 14th birthday in Mt Isa on the drive from Melbourne, though we were originally from Brisbane.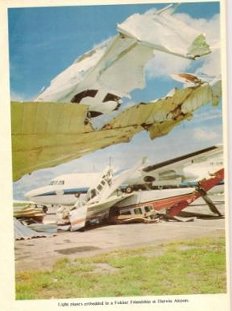 My Dad, was the Chief Pilot with an American mining company, Freeport Indonesia, flying their private plane to Timika in Irian Jaya as it was then known (West Irian).
This is the Freeport Indonesia plane at Darwin Airport. I believe it was the only one still standing. It was though badly damaged and had to have minor repairs before being flown to Melbourne for major repairs.
I met my future hubby in Darwin, he was from Melbourne. We all drove to Brisbane for the wedding, Dec 7 and arrived back in Darwin 2 days before Tracy hit.
We had our lives planned. My folks had a caravan, we were going to have it refitted for two and start our married life. Had a great circle of friends and loved the laid back lifestyle.
Then Tracy hit. Mum & I sat under a desk at the front door with our two dogs. While my Dad & Neil held a freezer and table against french doors in the dining room.
I'll never forget that night. To this day I absolutely hate strong, howling winds and heavy rain.
We thought we were the only ones alive in the morning. Our house lost the roof but all the walls were in tact.
Our wedding presents were sitting in a ton of water on the bedroom floor, the electrical stuff ruined.
We stayed in Darwin for 2 weeks after the cyclone, kept a barbie going and ate most of the food in the freezer. The high school was a "free" supermarket.
When we left we headed out as a convoy of 9 people and 9 cars with our animals. I'd only had my licence 6mths and had to drive solo with one dog, Mum had the other, Neil bringing up the rear in an old ute with spare petrol.
We headed to Townsville, it took us nearly a week to get there. We stayed 3 months, didn't take to the place and returned to Melbourne in Mar 1975 where we've lived ever since.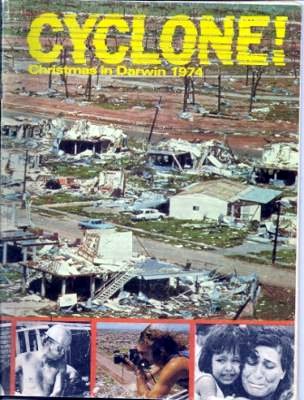 Here is the cover of an amazing magazine that the
Sydney Morning Herald
put out showing the destruction of Darwin.
How I managed to save it all these years I don't know. Its a bit worse for wear, but a tresured memory of Darwin and what Cyclone Tracy did to the people in Darwin on that faithful Christmas Eve.
Everyone there were affected in some way, some more than others, but you don't survive something like Tracy and ever forget.
Tracy changed our lives forever. For nearly 36 yrs I've lived away from family. My folks retired in Brinkin, my brother lived there for many years working at the NT News, like my husband. But when Geoff left to go overseas my folks left and returned to Brisbane
Of everything Tracy took from me, that was the biggest loss, my family not all living in the one place.
We've not been back since 1990, but plan a trip in May 2010. We can't wait.