A Community Bank 
for Nightcliff
A Community Bank can provide substantial benefits to a local community as the experience in many Australian towns and communities has shown with more than 300 of these special Banks established over the past decade.

The Nightcliff Community Bank was officially opened on 25 September 2008 by Austin Asche and is now providing full banking services for the Nightcliff area and beyond. To celebrate, the bank was able to make supportive donations to several local groups, including the Nightcliff Cricket Club, SIDS 4 Kids NT, Autism NT, and Camp Quality NT.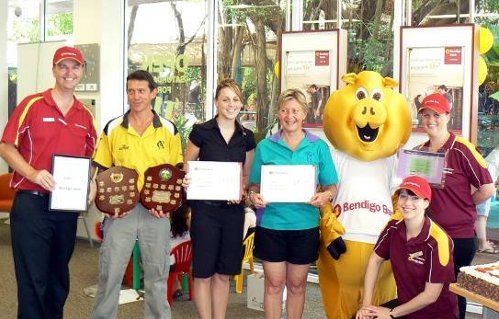 Supporting the Community
This banking concept was developed by Bendigo Bank to provide communities with the certainty that banking services and access to funding will be available locally.

Under this model a local company is formed with wide community involvement by selling relatively small shareholdings to a large number of people.
A bank is then established with the local company providing branch facilities and staff and the Bendigo Bank providing the banking license, systems and expertise.

The Nightcliff Bank is a 50/50 partnership between Bendigo Bank and Nightcliff Community Enterprises Limited, the public company formed by our community. The revenue is split 50/50 between Bendigo Bank and the community Company.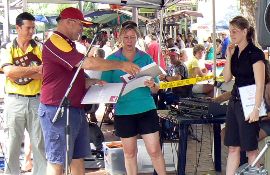 Presenting a donation
At least 80% of the Community Companys profits will be directed to community projects selected by the Directors of the Company, with the remaining profits distributed to shareholders.
For example other community Companies have provided funding for a wide variety of projects; community buses, fire brigades, Youth Driver Education programs, public toilet facilities, local school projects, day care centres and many other community facilities, depending on local needs and conditions.
Open an account now.
The sooner people transfer their banking to the Nightcliff Community Bank Branch the sooner your Board will be able to start returning profits to the community!

Contact;
Jeff Watson, Branch Manager,
Nightcliff Community Bank,
40 Progress Drive
Nightcliff
ph 8941 4666
For more information about Bendigo Bank please phone 1300 366 666 or visit www.bendigobank.com.au
---
Return from Nightcliff Community Bank to Enjoy Darwin Home.
---