Darwin Crocodile Farm
Established in 1981, the Darwin Crocodile Farm farms crocodiles in a sustainable, commercially viable manner for crocodile products including meat, skins and tourism.
For crocodile farms and retail outlets contact details:
Darwin Crocodile Farms and Retailers
Commercial hunting of wild crocodiles was banned in Australia when saltwater crocodile numbers had been reduced to dangerously low levels.

From small beginnings, the Crocodile farm now has around 36 000 crocodiles while wild populations of crocs have been allowed to regenerate.
The farm has been developed with a series of billabongs planted with native trees which has also attracted many native birds and water monitors, turtles and many other lizard species are regularly spotted in the gardens.
This was a popular destination for people wanting to see both the Saltwater Crocodiles and the smaller freshwater Johnstone Crocodile in a natural setting. Only a half -hour drive from Darwin, the farm provided tours which included feeding crocodiles
The Darwin Crocodile Farm in now CLOSED to the public...
Instead you can still see the feature crocodiles, including the infamous "white crocodile" Snowy McArthur and the star of Crocodile Dundee Burt, at CROCOSAURUS COVE at 58 Mitchell Street, Darwin.
Open 7 days a week from 8am to 6pm!
A sad update: Snowy is no longer with us, having died at an estimated age of 80 years.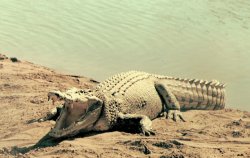 "snowy" the Albino Crocidile
---
Return from Darwin Crocodile Farm to Enjoy Darwin Home.
---